click to enlarge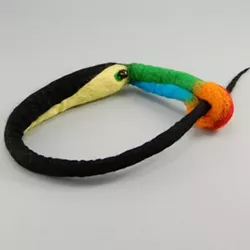 When most people think of incorporating wool into their accessories, jewelry does not necessarily spring to mind. Scarves, hats, gloves, sure, but necklaces and rings? Earrings and bracelets? As surprising as this pairing may first seem, the unique and absolutely stunning outcome is phenomenal. Zorica "Zoe" Djukic takes the awkward pair and gives them yet another dimension of oddity. Her jewelry plays on the art of felting … and she's felting some pretty interesting pieces. From guitars to toucans (such as the one pictured to the left) to intricate flowers, Djukic's pieces reflect her need to create gorgeous wearable art jewelry for every woman and the little kid inside of them.
Djukic, who is a native Serbian, has always been a creatively driven individual, whether
click to enlarge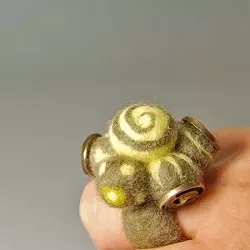 it is through words, photos, acting or fine art. All of that creative energy she finds surging through her bones is now being put to use in the creation of her one-of-a-kind felted jewelry designs. "I needed a creative outlet to counter the monotony of my day-to-day routine," she shares. "I [realized] one day that I could create felt jewelry and not have to settle for what has already been created by someone else."
The chances to experiment, and her fearlessness in doing so, are key to Djukic's work. "It is really difficult to make a name for oneself in the jewelry art world, but I hope that my dedication to being original and experimental will set me apart from the rest." She craves the chance to explore different mediums and methods of creating spectacular, colorful pieces, so it's no surprise that she would also like to get back into polymer clay. While clay is a bit more of a "traditional" jewelry medium, the endless possibilities for creative adventure and all of the colors available make it the perfect medium to compliment her wool creations. "Even though wool and polymer clay are two completely different mediums, they are both exciting as their colors and possibilities can transform imagination into reality," she explains.
click to enlarge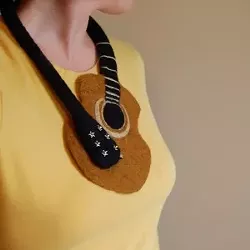 With such interesting and diverse designs, you cannot help but wonder where Djukic dreams up all of her ideas. "Most of my pieces came to fruition as the result of a particular moment in time: a trip, gallery showing, or when my husband, a music lover, comes up with a crazy idea out of the blue, such as my guitar necklaces," she shares. "I draw my inspiration from the world around me, and the colors and materials in front of me. I see something, usually in nature, then go home and just start laying out pieces of different colored wool until it feels right … While I am actually felting, I allow the wool to take me into different directions, sometimes leading me to unexpected finished pieces. Wool is soft and light, which allows for the creation of larger works that draw attention and become more than just an accessory."
Her fantastical viewpoint in jewelry design is yet another drawing factor to her work. The beautiful felted flowers and birds, guitars and ice cream cones, they all carry an odd, quirky sophistication behind them, yet allow the wearer to showcase that inner child with grandiose dreams hiding inside. The bright colors and eccentric items embrace the fun in everyone.
And everyone loves her designs. Right now, Djukic is able to claim that there are women wearing her jewelry in over 20 countries. That's tons of satisfied customers spreading the word of Zorica "Zoe" Djukic worldwide, and she is all about satisfaction, as well as feeling connected to the people wearing her designs. "It means the most to me when a customer is so happy with the piece they bought that they approach me to make a custom piece for them. It is great to bring to life someone else's wish for them. It means a lot to me when someone does choose one of my pieces [for] their collection because it usually means that there is some sort of connection with the person who is buying it. I feel that they understand the piece and have gone further by making it a part of them."
You can visit Zoe Djukic's online Etsy store (and buy something wonderful) at: http://3fun.etsy.com.