In such a time of economic unrest, with adverts claiming that they'll buy your old gold jewelry, it's amazing that someone could even thrive in the art of goldsmithing. Katie Stein would like to prove all of the skeptics wrong. She has chosen the life of a goldsmith, an artist, a designer … certainly three occupations that no one would flock to for the chance to receive a hefty paycheck, but she couldn't imagine doing anything else.
And quite frankly, we should be glad.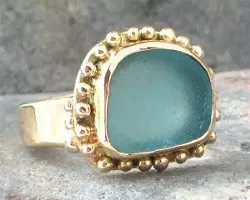 Stein's business,
Vaka Designs
, specializes in elegantly raw gold and gemstone jewelry that can be worn daily, with your favorite pair of jeans, or reserved for special occasions, like a wedding. "I love taking gold and putting it into the casual, artisan designs we have come to associate with silver," Stein shares. "Gold is a gorgeous material, warm and with an inner glow silver doesn't have. When we take gold and put it into the casual designs we've gotten used to seeing in silver, we have something really beautiful! Relaxed, but with a depth and warmth that silver can't provide."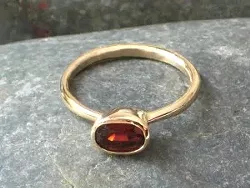 Stein is making sure that the over-processed, mass-produced trendy idea of gold jewelry is a thing of the past in her designs. She gives us a fresh approach even with the antique, aged look of her one-of-a-kind pieces. "I love jewelry that looks as if it's been dug out of the earth, like it's ancient and it's been part of someone's experiences and stood the test of time … pieces that look personal and individualistic and can become part of someone's story. Timeless." Her work has been said to appear as if they came right out of the Roman of Byzantine periods, or as one man said, her pieces are "elegant and rustic, refined and beautiful." No one could have hit the nail on the head any harder.