click to enlarge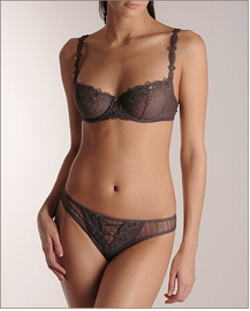 Ladies, you spend a lot of time making sure your clothes, hair, nails, feet, everything looks good. That's wonderful. Some men should follow suit. However, when it comes to the undies, you start slacking. This is just a crying shame. It's like giving up on the race, AT the finish line.
Now I have heard all the excuses, "I can't find stuff that fits." "It costs too much." "No one else is gonna see it." "It isn't gonna be on that long anyway." "Who cares?" I know there are more of them, but at the end of the day, my answer is the same: Do the work and find matching sets. It's worth it. Here's why.
If you feel sexy and confident, you act sexy and confident. It starts with you. When you look good, you feel good. When you feel good, you play good. Your inner attitude is always displayed on the outside. People can tell when you have a little extra "pep in your step." When you leave the house and NO ONE can tell you you don't look good, there's an air of confidence that is extremely attractive. Trust me. There is nothing sexier than a confident woman.
Your man will appreciate it. There's a reason Victoria's Secret does so well. They understand that men are visual creatures. We are attracted to what we can see and what we can feel. That's why the Swimsuit Edition of Sports Illustrated is always a big hit. We love to see you match. It's sexy. It's a turn-on. There's nothing like unwrapping a present and having a beautiful gift inside. Man, you can't wait to play with it! You ever notice in all the magazine ads you see that the sets match? It's because it's sexier. PERIOD!! Some of you have been married for a while and let's just say, the fire doesn't burn as hot as it used to. I bet you're wearing a nightgown, or worse, a freaking extra long T-shirt to bed ever night. Nothing says "Come and get me, big boy" like an outfit that reminds him of his grandmother, especially when they come with the ultimate turnoff tool: granny panties.
I know right now, some of you are saying: "My man doesn't care." Yes he does! There are few who don't. But they are a rarity. Just because he doesn't say anything about it doesn't mean he doesn't care. Some men have conceded the fact that they are only gonna win so many arguments. He isn't gonna waste it on this particular battle. So I'm taking it up for him. Step up your underwear game.
As I said earlier, you're grown. Do what you want to do. But my suggestion is get off the excuse wagon and get some matching underwear. Go online, do some research. If it were important enough, you would find it. I'm sure if you were gonna have a night out with the man of your dreams, you would take the time to find every necessary item you needed to make the night special, including matching underwear. And oh yea, for those of you who disagree, before I sent this article in, I asked a number of friends about this, male and female, and they agreed with it.
William Wilson is a nationally respected men's clothier and image consultant. His clients include professional athletes, CEOs, and corporations. His homepage is www.WilliamtheClothier.com. Follow William on Twitter: www.Twitter.com/theclothier or on Facebook at www.facebook.com/williamtheclothier.