Anyone who knows me knows my two worldly loves are the Arkansas Razorbacks and watches. I love a nice timepiece. I have been known to bargain shop for a $20 pair of jeans, then go out and spend thousands on a watch. (Hey, I didn't say it was smart. I just acknowledged it was so.) I have Rolex, Breitling, Cartier, and Tag Heuer watches; about 15 to be exact. I currently wear a custommade Breitling Bentley 46 mm that I could've bought a Kia for the price I paid. But I look at it as an investment that I can enjoy. And that watch has made me more money than it cost me. Proof positive that a nice timepiece is an investment in your image. And investing in your image is investing in your future.
click to enlarge
I didn't say this to boast. I say this to qualify my next topic. I have found what I believe to be the next hot watch brand in the country. It's by a relatively new watchmaker called Oceanaut Watches. They are a California-based watchmaker, founded in 2003 by Frances Blair. Though they have been around for six years, not many people have heard of them. However, they are very big in Hollywood — worn by Courtney Cox, Samuel L. Jackson, Fergie, Noah Wylie and Kate Walsh. Denise Richards wore an Oceanaut Spada on her reality show
Denise Richards: It's Complicated
this season. As you can tell, it is very popular with the "A"–list.
My two favorites are the Baltica 52mm, (on the left) and the Baccara (pictured to the right below). Unfortunately, the Baltica is being discontinued after the current inventory is sold out. But the Baccara is going strong. You can purchase the Baccara with either a diamond or plain case. I obviously prefer the diamond case. Though it is flooded with enough ice to cool your sweet tea, it isn't ostentatious or over the top. It can be worn casually, but is the perfect watch to wear on the red carpet or an upscale event. There is a gentleman's and ladies' version.
click to enlarge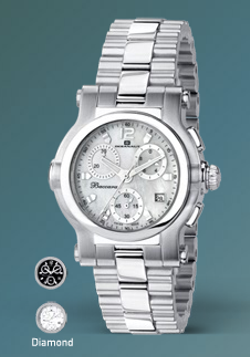 To find out more about Oceanaut go to www.oceanautwatches.com.
William Wilson is a nationally respected men's clothier and image consultant. His clients include professional athletes, CEOs, and corporations. His homepage is www.WilliamtheClothier.com. Follow William on Twitter: www.Twitter.com/theclothier or on Facebook at www.facebook.com/williamtheclothier.
Lipo Laser Update: Four sessions and I've lost 1 ½ total inches off my stomach and waist. You still should watch what you eat or your results will be reduced significantly. I feel extra room in the waist of my pants now. Read my previous post on Lipo Laser and what it does for you here.