click to enlarge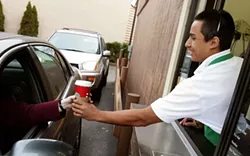 America is so freakin' lazy.
One of the reasons why online shopping is so big is because we can do it from the comfort from our own homes — we don't have to get up off our butts.
In the same way, the McDonald's drive-thru thrives because people don't want to get out of their cars. And the concept of the drive-thru has taken over Starbucks, pharmacies and even some liquor stores.
Now, retail giants are starting to test out adopting that concept for themselves.
The Chicago Tribune reports:
During the past year, the Chicago area has turned into a retail test ground for mass merchants to experiment with drive-throughs. Sears Holdings Corp. started last spring by turning a Kmart store in Joliet into a drive-through warehouse, renaming the outpost MyGofer. Meijer Inc. followed suit with GroceryExpress drive-ups at stores in St. Charles and Aurora. And Wal-Mart Stores Inc. opened its first drive-through at a recently remodeled store in Mount Prospect.

While the concept is fledgling and there are kinks to work out, retail analysts predict that mass merchant drive-throughs will be moving into the mainstream as baby boomers age and the Internet changes the way people shop.
What do you think? Will the masses embrace a drive-thru Wal-Mart? What about drive-thru times? Will the sales associates who work these drive-thru lines be pressured to keep the line moving like fast-food workers are? And more importantly, is this really going to make a difference against the online competition?