click to enlarge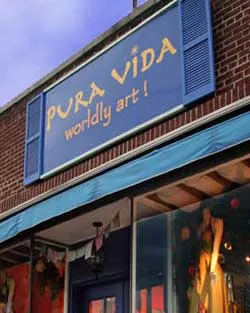 Aw. Plaza Midwood must be so sad to be losing one of its anchor retail stores. Pura Vida has been in this eclectic neighborhood since 2004, and in October will be moving to another eclectic neighborhood. Yep, NoDa.
So what does this mean?
From a newsletter:
...It means we are still having as many events as possible in our Gypsy Lounge as long as we are here. We will continue to support and be engaged in the neighborhood.

...It means we will be having lots of sales so we won't have to lug as much stuff to our new home.

...It means some of our fixtures will be for sale, too (we will not do coffee at the new place)

...It means this place is available for lease soon! email John Jones at jjones@gsrc.net. The landlord, Albert, is terrific and very supportive!

...It means we could really use everyone's support while we make this transition- painting parties at the new place!!!

...It means we will miss being in Plaza Midwood-- running to Nova's in the morning for dessert, getting Pizza delivered from Fuel's Pizza for lunch, walking over to Common Market, Zada Janes, Soul's or Snug Harbor after work, and watching Chilly Willy across the street scream at people all day long.

...It means we are excited about our move in October and look forward to forging strong, supportive relationships with our new business neighbors which include Cabo Fish Taco, Crepe Cellars, The Evening Muse, Fu's Custom Tattoo, The Neighborhood Theatre, Smelly Cat, Wine-Up, Real Eyes Bookstore, Amelie's and many others.