Night two of Charlotte Seen Fashion Week kicked off with entertainment during the VIP hour that also continued onto the stage before the show — which I have to admit started a bit more than just fashionably late.
Following the entertainment was a repeat of the introduction of the judges, an entrance of male model "bodyguards," which was a little overboard for two nights in a row and it was on the program for the next night as well. I am not going to lie though ... the bodyguards were nice eye candy, but honestly I was just ready for the fashion to begin.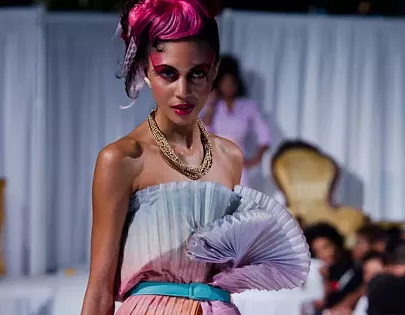 51 slides
When the show started, it started off with a bang with a collection by SilkFalsetto. This collection was full of neon pieces, full of volume and power. Silkfalsetto is a customized clothing line designed by pair Dessaka Lockhart and Naomi Miller that caters to women (sizes 0 to 22), men and children for all occasions.
The collection Foxx Skynz by Melissa Davis was up next on the runway, and you could not deny the bold prints and voluminousness pants. There was one particular pair of pants that I would just die to get myself into. Davis uses uses fabrics from simple polyester to full fledged furs.
DW Designs was a handsome collection of menswear by David Washington. I am not an expert in menswear, but each of these pieces was done with complete excellence and I know quality pieces.
The final to show among the fashion designers before the Re-Model Show was Pixton Couture Bridal, and like the menswear, each piece were done with attention to detail, right down to the lace at the bottom of the hem line. It was hard not to be in awe of the beauty in each dress that walked the runway. Pixton Couture Bridal is based in Charlotte and known for body conscious silhouettes with an eye for symmetry and form. Pixton gowns are carefully constructed using luxurious silks and hand-beaded details inspired by vintage jewelry.
After the bridal collection, there was a brief intermission before the Re-Model Show began. It featured 25 local artists and businesses creating reinvention couture pieces from recyclable interior design and construction items.
While most were engaging and creative, one sticks out to me the most.
A designer/artist used bagged goldfish tapped to the dress, and I truly thought that was cruel and unusual. I know there will always be controversy surrounding fur but fur has been around since the beginning of time and serves a purpose. Taping fish to a dress serves no purpose other than for your own satisfaction and is no way using recyclable materials. Check out www.charlotteseenfashionweek.com to get on all the info on the remodel designers. It was unfortunate, but the music overpowered the announcers voice and it was hard to hear which models belonged to which designer.