On Friday, Sept. 23, Charlotte NC Fashion Week's Emerging Designer Showcase included collections by Alice Andrews Designs, Anarke Jeans, T.2 Design Group, MEW Designs, Navy & Pearls, Olivia Kole Company, Julkee Fashions and Tsvety Fashion.
And with that said, here's the fashion lowdown. Check out some of my thoughts about selected runway picks below.
Alice Andrews Designs — This designers' eco-friendly couture line used all natural dyes from teas and plants. The hand-stitched clothing splashed with colors (a step up from the more traditional tie-dyed look) and shades of soothing blues, greens and autumn faves. Flowy and sheer fabrics. Skirts reminiscent of summer wrap arounds.
MEW Designs — Described as having a rock 'n' roll edge, this collection celebrates the designer's love for Charleston, S.C. The result: Lots of pastel striped shirts with light shades, sometimes paired with casual comfy-looking, sweat-style pants.
T.2 Design Group — The all black suit was chic. But, the checkered colored shirts worn by some studly fellas could use a revision. It made me think of one thing: a picnic.
Anarke Jeans — There's no fear of getting dirty, as models covered from head to toe in white bring a new liking to the shade we're mostly afraid to wear. Denim suspender ruffle skirts with white tops underneath cutesy crisscrosses.
Navy & Pearls — The mantra of the collection is described as "playful sophistication." Pastel fitted dresses and jackets are revamped with impressive edgy upper cuts.
Julkee Fashions — The skimpiest line of them all. Open backs and corset-clad dresses bring lingerie-feel of sexiness to sharp ready-to-wear apparel.
Tsvety Fashion — My personal favorite of the bunch. The Bulgarian designer gives her creations a spin with zipper backs, edgy cuts and crushed coral and grey velvet touches. Samantha Busch, the host for the evening, is pictured wearing a Tsvety design.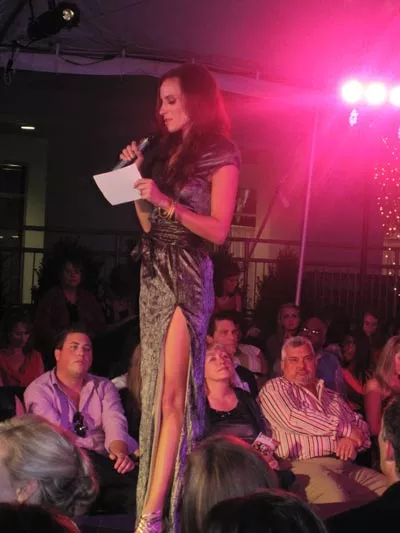 Olivia Kole Company — Dresses have a little retro spin with lots of colorful blasts and swirls. The peacock-inspired dress was eye-catching with its blue-green plumage appearance and soft satin-like features.