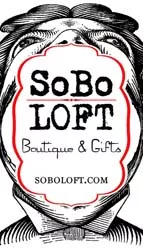 Yesterday, I was minding my own business, killing time in the mall in my hometown, when I stumbled onto Victoria Secret's semi-annual sale. Of course, that was the catalyst to an irresponsible yet oh so fruitful shopping spree ...
I think there's just something about a semi-annual sale that gets my shopping juices flowing. If you know what I'm talking about, then you'll be excited to hear about Sobo Loft Boutique and Gifts' semi-annual sale event, starting today. Get up to 75 percent off on select merchandise, gifts with purchase and special drawings.
Try to restrain yourself.
1820 South Blvd., Suite 200
704-333-3422