Day two of Mode Noir brought more fashion buzz to the CIAA scene with America's Next Top Model finalist, Bianca Golden, as the evening's guest host. Co-hosting with local WBTV anchor, Brigida Mack, the duo brought not only fashion but some spontaneous fun to the stage. Brave participants from the audience strut their stuff on the runway in a "walk-off" and some even had the guts to showcase their musical talent. America's Next Top Model met American Idol Thursday night at the Harvest Center.
The evening's fashion came strictly from original designers with the exception of one local boutique. 16-year-old Kevin Vain kicked off the show with an avant-garde collection, reminiscent of Lady Gaga's "out there" style. The young designer got his start in fashion by customizing pieces from thrift stores. "And then the public took a liking to it so I started making clothes from scratch," he said.
Lipp Boutique, the newest addition to the Metropolitan, made its first runway appearance at Mode Noir. The boutique featured dresses, casual looks, and accessories from the up and coming clothing lines they feature in store.
Avnah Couture, from Atlanta, also made an appearance. Most of the pieces, like the pointed design corset tops, sheared vinyl mini dresses, cutout pants and the finale dress, a rainbow tulle couture dress, were not traditionally wearable. However, they were interesting to see on the runway. The line has been worn by celebrities including Kelly Rowland, Lola Monroe and Dawn Richard.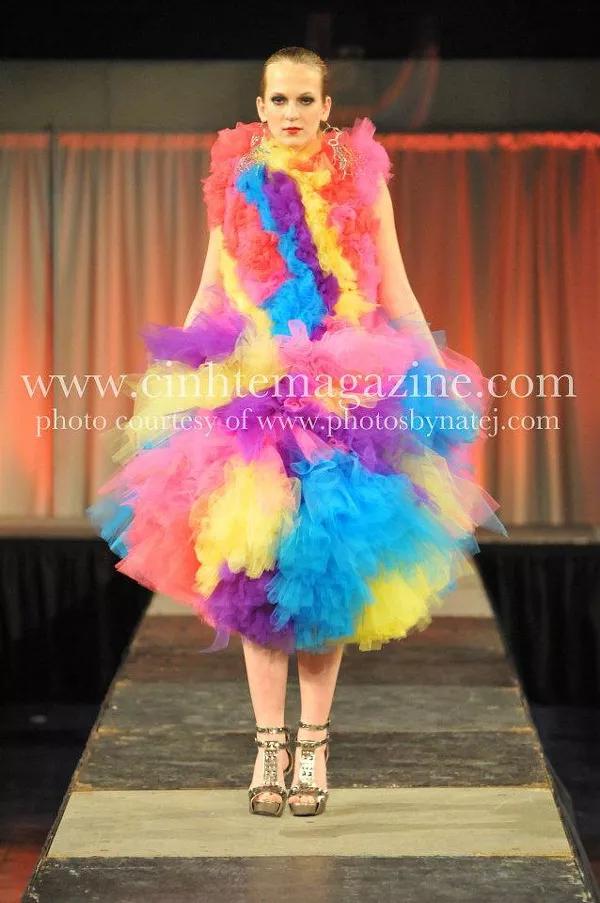 Other lines featured included Sacchi Couture, a fairly new line of "elegant" styles for women, and K L Allen, another line from Atlanta, which featured both men and women's fashions. Although more wearable than the others, the K L Allen collection was definitely still geared toward those looking to make a real statement.
LaVonndra Johnson's own boutique, Elle V J of NoDa, also walked the runway. Her collection featured an assortment of sweet spring dresses in fun colors and patterns like canary yellow, bright red with polka dots, and pretty shades of white perfect for summer. The styles were all very young, fun and wearable.