Found: Pint Central (1226 Central Ave.)
Ingredients: Smooth Ambler Old Scout Rye Whiskey, Cynar, Ariston Raspberry Condiment, lemon garnish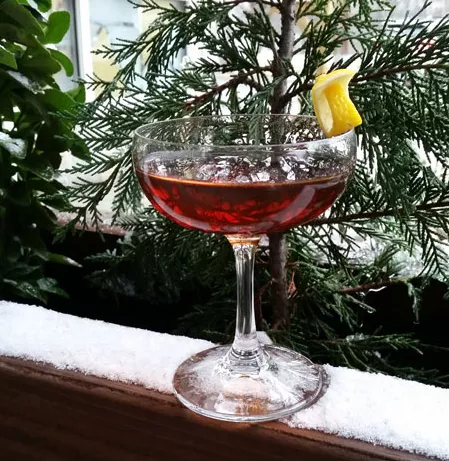 A few simple ingredients come together to create Ida, a beaut of a cocktail named after the Grecian nursemaid to Zeus, said to have changed the color of raspberries from white to red by pricking her finger on a thorn. Other than the name, nothing in the drink hails from Greece. Both Cynar, the bitter liqueur made from 13 herbs and plants, and the raspberry vinegar are from Italy and join Smooth Ambler Old Scout Rye, which comes straight out of West Virginia.
In addition to these essential ingredients, there is one more element that's vital to the drink's flavor — the absinthe-rinsed glass.
"I wanted to do a light absinthe rinse to kind of bring out a little more contrast between the flavors," says bartender Henry Schmulling. "The cocktail itself is very simple, very easy to make, but with a couple of extra additions to the process you can completely change the structure of the cocktail."
Stirred and served straight up, it offers a boozy sip characterized by the beloved taste of whiskey highlighted by herbal notes like licorice, the sweetness of raspberry and the citrus-y scent of the lemon garnish.