When you first meet Melissa Beard, she is quiet and subdued, but the jewelry hanging from her neck speaks volumes. The vibrant and colorful handmade vessels offer a statement all their own: they prove she's come a long way from making beads with a Hobby Lobby startup kit.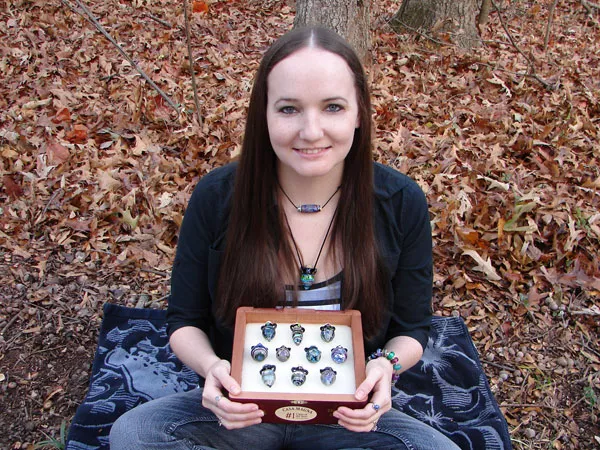 Moving from Texas to Charlotte five years ago after a single visit to the Queen City ("We loved it, just said 'Yup, that's it, we're moving here,'" Beard says), she was browsing online one day when she came across a site that mentioned lampworking. Beard became fascinated and began exploring the science of glass. "I learned I could actually melt glass myself," she says. "Glass is hypnotizing when it's glowing brightly from the flame and flowing with gravity."
After some further digging, she took her love into the Charlotte community and found fellow glass artists via an online forum, developing her signature style as she learned. Each piece of jewelry is handmade with the use of blowtorches, small pieces of colored glass heated in the flame until they start to flow as liquid and manipulated into wearable glass art that has a vintage feel. Clean lines and organic flowing shapes that feature dark colors with a touch of sparkle define her work while simultaneously appealing to both sides of the gender gap.
With a clear vision in mind for her line, Beard set up shop on Etsy, an online marketplace for handmade and vintage finds, in 2011. "I always thought that if I sold like 10 things, ever, I wouldn't be embarrassed about it," Beard says. Now the shop has far surpassed her expectations, with 60 sales and counting. Items move at an unpredictable rate that can go anywhere from six pieces a day to one a month, with business coming in waves but still giving the support needed to continue her work as a jewelry maker full-time.
"The possibilities of this medium are seemingly limitless and there is always something new to learn," Beard says. "It is just magical in so many ways."

Creative Loafing: What sets your work apart?
Melissa Beard: I make many different things from glass, but my favorites are the vessels because they remind me of something you would find in an old treasure chest. They are small, two handled vessels, adorned with silver, copper and colorful glass and fitted with a cork stopper to keep oils, perfumes or other tiny treasures. My glasswork strikes a balance between feminine and masculine in a way that I think sets it apart from a lot of other glass work. In a way, it contradicts itself.

Is there a reason you were so drawn to glass as a medium?
I think it's in my genes actually. My grandmother was a big marble collector, and she passed away before I got into glass. But I make marbles now, too, and how cool would that have been? She probably would have bought them from me. I collect them now, since I have a bunch of hers and my own now.
What would your dream job be if glasswork weren't an option?
That's a hard question because there are so many... I could see myself being a world-traveling geologist, perhaps just a mad scientist, a woodworker, and a welder. Ultimately, though, the one thing I've always wanted to do is run a huge animal sanctuary. For all kinds of animals - cows, chickens, pigs, dogs, cats, turkeys, turtles, ferrets - the list is endless. If I ever found myself in a position to make that happen, I would be the happiest person on earth.