click to enlarge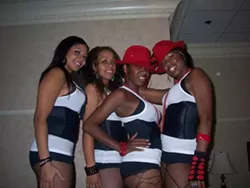 Did you know that Charlotte has an official go-go dance team? I didn't.
The team is called the Ladies of Seduction. Here's a little info about the group:
Introducing Sexy Go-Go Dancers to Charlotte's Nightlife-Bringing something new and different to the party scene! Ladies of Seduction (L of S) Go-Go Dance Company is a newly founded group of Charlotte's most talented dancers. Developed and founded by Sharmekia Brooks for the love of dance and performing! The meaning of Go-Go is "To Happen", "On the Go" , or "Constantly Active". This is the true definition of what L of S Dancers will provide for your party/event! We are not your average chicks that stand around in the club....we get the party started and we keep it poppin'! These Hot Ladies exude passion for dance while performing in front of various, diverse crowds. We have embarked on a journey to raise the bar for Charlotte's party scene. We are talented, beautiful, creative, and most importantly we share the same passion for dance. Ladies of Seduction's mission is to bring full energy to the party while keeping the crowd continuously entertained!!! To book Ladies of Seduction Go Go Dancers, feel free to contact us!
Check out their MySpace page: http://www.myspace.com/lofsgogodance