click to enlarge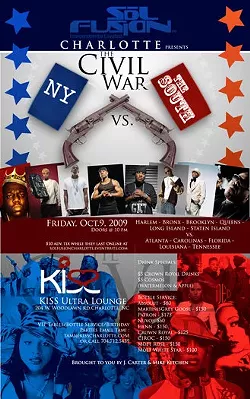 A few months ago, the popular Atlanta-based nightclub event Sol-Fusion popped into Charlotte in an attempt to bring the party to North Cack. Well, it was so successful — with a packed house full of great music and dancing ladies and guys — the promoters behind the first event (Charlotte's Mike Kitchen and Atlanta's J. Carter) have decided to bring it back for a sequel.
It all goes down tonight as Sol-Fusion sets up shop at the night-spot KISS for an extravaganza that's titled "NY vs. the South." It's a music/cultural war that's free before 11:30 p.m.
For more info, click right here.