click to enlarge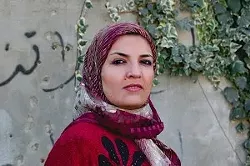 When women come together, we can do anything. But maybe that's the feminist in me talking.
Partners for Peace is a nonprofit organization that provides a public platform for the voices of Israeli and Palestinian women working for a peaceful resolution to the Israeli-Palestinian conflict. One of their initiatives, the "Jerusalem Women Speak: Three Women, Three Faiths, One Shared Vision" tour, is stopping in Charlotte today. (Hekmat Besisso-Naji, one of the speakers, is pictured to the right.)
From their Web site:
The general theme for the Jerusalem Women Speak tour is everyday life in Israel and Palestine. Amidst increasing loss and terrible destruction of Palestinian and Israeli lives, three ordinary women will speak to American audiences about their daily lives and their efforts for peace. These women come from each of the three major faiths in Israel and Palestine: Islam, Christianity, and Judaism, and find a voice for their hopes and frustrations amidst the ongoing violence as they meet each other for the first time.
The event is free, open to the public, and sure to be engaging.
• University of North Carolina at Charlotte
2 p.m.-3:15 p.m.
College of Health and Human Services building Room 115
9201 University City Blvd.
704-687-7305
• Providence Day School
7 p.m.-8:30 p.m.
5800 Sardis Road
704-887-6000