click to enlarge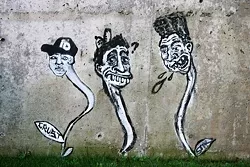 Once upon a time man-made chemicals didn't exist. We humans took the world as we found it and did our best with what we had. Then we got into mixing shit together, modifying it, trying to recreate substances with other substances and more. We called this "progress."
Now we're hard pressed to avoid chemicals. Even those of us who try really, really hard can't avoid the chemicals in our air, water and pretty much every manufactured product on the planet. Even things we try to shelter from chemicals, like our babies, aren't immune. (See article snip below.)
Today, we eat chemicals, drink them, bathe in them, breathe them, wrap ourselves in them and we wonder why we're living longer and why, sometimes, it seems like everyone has cancer. Here's why: We're full of chemicals.
Here's more from the BBC:
The researchers looked at three groups of men who reached the age 19 between 1998 and 2006.

Men who were born in the late 1980s had lower sperm counts than those who were born in the beginning of the decade.

Total sperm counts were 227m for men born in 1979-81, 202m for those born in 1982-83 and 165m for men born in 1987, respectively.

In addition, the researchers observed that there was a higher incidence of testicular cancer in men born around 1980 compared with men born around 1950.

Writing in the journal, the researchers led by Professor Jorma Toppari, said: "These simultaneous and rapidly occurring adverse trends suggest that the underlying causes are environmental and, as such, preventable.

"Scientists have been concerned for some time about the possibility that younger men may be producing less sperm than their fathers and grandfathers did at the same age" -- Dr Allan Pacey, University of Sheffield.
Read the entire article here. Can't wait until the girl's study comes out. You?
Rhiannon Fionn-Bowman is an independent journalist who contributes commentary on Creative Loafing's CLog blog four days a week in addition to writing for several other local media organizations. To learn more, click the links or follow Rhi on Twitter.