click to enlarge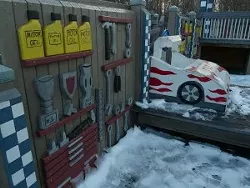 I love our parks, I frequent our parks, I've even written an article about parks for an upcoming issue of UCity Magazine where I visited — I kid you not — about 40 parks in northern Mecklenburg County and southern Cabbarus County.
We have a lot of parks, which I think is a blessing.
The parks provide us with green space, a place to relax and exercise, a place to host celebrations, a place to commune with our neighbors, a place to learn about nature as well protection for area streams and wildlife. Additionally, they offer a place for people with a variety of hobbies to hang out— whether you're into mountain biking, hiking, disc golf, fishing ... the list goes on and on.
Since I moved here from Atlanta about six years ago, I've been most impressed by Charlotte-Mecklenburg parks, and I want to support them. The problem is that our area, as you all know, has suffered from some serious budget shortfalls, and we are now in a position where we have to decide between funding education, libraries, parks, social services and more.
It's a tough choice because all of these things are important and our budget keeps getting tighter and tighter, which means the staff for these services is getting lighter and lighter.
Enter the Park Ambassador Program. If you love our parks and frequent them, as I do, why not volunteer at them? The staff could use your help, and your community will appreciate your efforts. Plus, for those of you with children, what a great way to spend time with your family and teach your kids how to be community-minded at the same time.
Here are the program's details:
This program is open to all individuals over the age of 18. Families may also act as Park Ambassadors, however all youth under the age of 18 must be accompanied by adults at all times.

Program Goals

To provide a team that can educate the community and enhance the Departments ability to provide Customer Service to our park patrons. To provide an avenue for volunteering for individuals and groups that wish to "give back" to the community.

To provide assistance to park staff in the areas of programming, maintenance, and security related operational matters and initiatives

To provide a team that will be a deterrent to crime, vandalism, and other un-wanted behaviors that may occur in park settings

Description of duties: Volunteers will monitor and report back to staff information on the parks, trails, and greenways. Volunteers, as a representative of the department, will greet patrons, answer questions and support staff when needed. Volunteers must commit to at least 6 months as an ambassador and will need to enroll in the VIP (Volunteers in Parks) program and go through Park Ambassador Orientation. To apply to join this program, contact Volunteer Coordinator Lori Saylor at 704 353-0504.
Visit the Park Ambassador Program website to download the program manual.