In a grim wartime setting, playwright Rajiv Joseph juggles the animal, the human, and the divine in Bengal Tiger at the Baghdad Zoo, currently caged at Carolina Actors Studio Theatre through November 11. Toss in American military arrogance, Hussein family beastliness, a whore, a leper, a topiary artist, and a talking tiger and you have an Iraqi stew rich in meaning.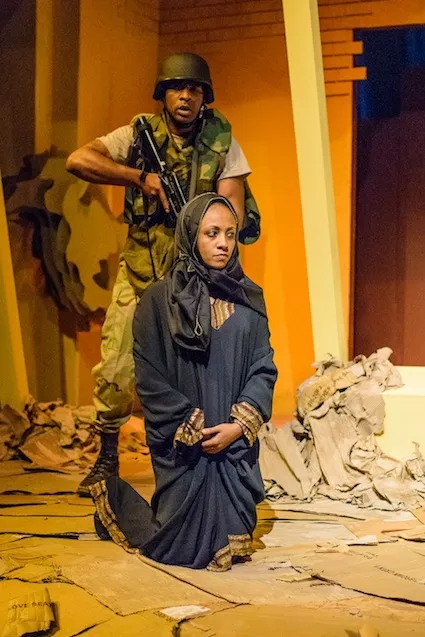 Tom and Kev are the ugly Americans who are guarding the zoo while the occupiers tighten their control of the capital after Saddam Hussein's capture. In a very unguarded moment, Tom literally gives the tiger a hand. After boasting that he is bigger and smarter than the lions at the zoo, the tiger must admit to poor impulse control. He bites and devours the hand that feeds him. Itching for action and resenting his zookeeping assignment, Kev guns down the tiger on the spot.
The opening scene action sets loose a couple of bizarre things that we'll follow for the rest of the evening. First, there's the ghost of the Tiger, a natural atheist who must grapple with the reality of the afterlife, the existence of God, and how to reconcile what he sees in Baghdad with God's dominion. Or that's my guess about what Tiger is hunting for when he isn't driving Kev insane.
Along with the big cat, Joseph weaves another curiosity into the plot, a golden gun that Tom has seized from Uday Hussein's palace when the Marines gunned him down. The trophy gun falls into Kev's hands when Tom is shipped home for surgery, rehab, and a new prosthetic hand. But Tom signs up for another tour, for country more than God — and for the golden gun far more than either. If Tom's persistence sounds to you like a metaphor for America's preoccupation with Middle Eastern oil, you're not alone.
By this time, the weapon has fallen into the hands of Kev's translator, Musa, who was once employed as a gardener and topiary artist by Uday Hussein. So the story forms a couple of graceful circles when Uday haunts Musa, and the artist finally leads us from one horrific dead zoo to a strangely pristine one where the animals are carved out of bushes and trees — commissioned and owned by a monster. When Musa returns and meets Tiger for the first time, you may be able to anticipate the throwaway punchline from ten miles away. But with all the intricacies that lead up to that crystallizing moment, the joke still satisfies.
Visually, the production is up to CAST's high standard. Dee Blackburn's set is more impressive in its evocation of the topiary animals than the city of Baghdad or its zoo, but teamed with Tony Wright's lighting and Jamey Varnadore's pitch-perfect costumes, the feel is always right as we range from city to leper colony to enchanted garden. Where we go a little wrong is in the directing, with two of the actors, Michael Harris and Michael R. Simmons, co-directing. Despite the stray word lost in the thicket of his English accent, Harris is grrr-reat as Tiger, mischievously spitting out the beast's best one-liners and peppering his predatory movement with mundane scratchings and other animal mannerisms.
Trouble is, Harris doesn't provide Simmons with a good set of directorial eyes and ears when Uday is haunting Musa. We probably shouldn't expect a gallery of authentic Iraqi accents, but most of what we hear from Uday in the concluding scene of Act 1 is either unintelligible or inaudible — because of the specious accent that is there and the volume level that isn't. If Simmons is going to insist on a cinematic whisper, his exit needs to be greatly abbreviated so that a long stretch of dialogue isn't delivered with his back to nearly all the audience. Very frustrating.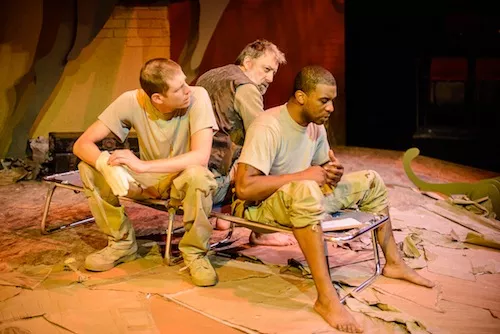 Eric Blake and J.R. Jones are more than amply loud and boisterous as the obnoxious Marines. Blake makes Tom so earnestly obsessed with Uday's artifacts — which include a golden toilet seat to add a comical patina — that he's nearly as pathetic as he is detestable. That seems to be Joseph's aim when Tom addresses Musa as the generic "Habib," seemingly unaware of the insult until the bitter end. Jones plays Kev as one of those childish soldiers who can't differentiate between warfare and video games, a characterization that works beautifully when the soldier goes bonkers. Added to the multiple roles Jones is playing by day in the touring production of Children's Theatre of Charlotte's Liars, I'd say Jones is having himself a helluva month.
Among the actors portraying Iraqis, Rigo Nova as Musa and Megan Santiago as his daughter Hadia are the standouts. Even Nova's stumbles delivering Musa's lines work well for a translator brushing up on his English, and he carries the scenes with Uday nicely as his victim. Santiago is as refreshing to see onstage now as she was back in August, when she portrayed Lena — possibly the first Iraqi character ever seen on a Charlotte stage — in the NuVoices festival winner, Narrow Daylight.
Compare what Tom loses to the gregarious Tiger with what Musa loses to the rapacious Uday and you get a good portion of what Joseph wishes to tell us. There's a lot to chew on.