click to enlarge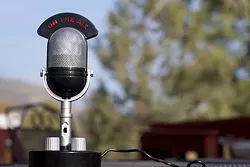 The North Carolina General Assembly may want to gut environmental funding in our state — which will hurt every citizen's health and eliminate many jobs, but not everyone is taking their aggression lying down:
The North Carolina League of Conservation Voters Foundation began running radio ads today informing the public that the legislature is ignoring its mandate to create jobs while scrapping policies that protect water and air quality. The ad highlights that numerous pieces of legislation threaten jobs created by tourism which are dependent on clean water and air. They also launched a web site, www.thataintrightnc.org, which offers details about the impact of legislation and lists bills that have little to do with jobs but everything to do with eliminating environmental protections.

"We have a legislature that was elected to get the economy back on track and create jobs," said NCLCV director of governmental relations, Dan Crawford. "Instead, they have focused on an ideological agenda that will foul our water and air. With tourism being one of our top industries, these are job-killing bills. People don't go to the mountains to see dead trees and they don't want to swim or fish in water full of toxins."

Crawford says the ads will run for several weeks on stations across the state. The goal of the program is to educate the public about the impact of the legislature's actions and show their misplaced priorities.

The ad can be heard on the web site at www.thataintrightnc.org. The text of the ad is below:

North Carolina is a special place. For generations, we've been a leader in the South. We're one of the fastest growing states. Over and over, we've been named one of the best places to do business in the country. Sure, we've invested in education, creating a strong workforce. But we've also made good decisions about our natural resources, protecting our water and air. That's why tourism's one of our top industries, attracting businesses, creating good jobs. Now, a bunch of politicians in Raleigh wants to roll back those protections. Let folks pollute our rivers and streams, foul our clean air. That won't create jobs, that'll kill jobs.

And that ain't right.

For more information, go to www dot that ain't right NC dot org.

Paid for by the North Carolina League of Conservation Voters Foundation.

The North Carolina League of Conservation Voters Foundation works to engage and educate North Carolina voters and decision-makers on how we can protect North Carolina's water, air, special places, and the health of our communities and economy. We promote active and responsible citizenship to address the environmental challenges facing North Carolina.
Further reading:
Final NC budget takes aim at environmental policy — Bloomberg News