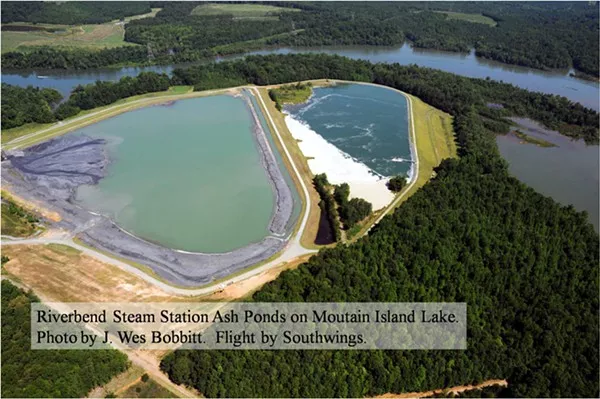 These are the two coal ash ponds on the edge of Charlotte's main drinking water reservoir.
Well, I think anyone paying attention to this issue already knows this, but ... in case you haven't been paying attention:

A new study finds that state regulations regarding coal ash disposal are inadequate to protect public health and drinking water supplies for nearby communities. The information comes as federal regulations—the first of their kind—are under attack by a hostile Congress bent on derailing any effort to ensure strong, federally enforceable safeguards for coal ash, America's second largest industrial waste stream.

Earthjustice and Appalachian Mountain Advocates (formerly the Appalachian Center for the Economy and the Environment) today released "State of Failure: How states fail to protect our health and drinking water from toxic coal ash," an exhaustive review of state regulations in 37 states, which together comprise over 98 percent of all coal ash generated nationally. The study highlights the lack of state-based regulations for coal ash disposal and points to the 12 worst states when it comes to coal ash dumping: Alabama, Georgia, Illinois, Indiana, Kentucky, Missouri, North Carolina, Ohio, South Carolina, Tennessee, Texas, South Carolina and Virginia.

Read the rest of this MountainXpress article, by Susan Andrew, here.

Review the study here.