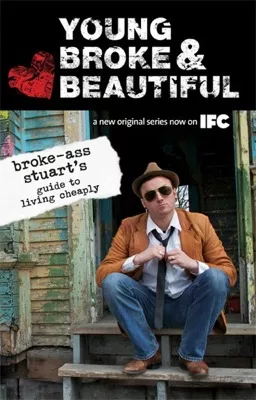 Review by Shawn Alff
(This story originally appeared in the Tampa edition of Creative Loafing.)
Being cheap is common, but making your broke lifestyle seem hip and bohemian is an art. I learned the basics of being a penny-pincher from my father. On Saturday mornings he would take me for free hot dogs at car dealerships hosting "sales events." On Sunday mornings we checked the overgrown tufts of weeds beneath parking meters and drive-thru windows for change to dump into our church's collection basket. I perfected the art of living on the cheap when I turned 23 and flew to Hawaii with a backpack; after several months of being a beach bum I returned a few hundred dollars richer than when I left.
What makes for an interesting life is not the things you own, but the things you do. Unfortunately, doing interesting things in interesting places costs money. In his new book, Young, Broke & Beautiful: Broke-Ass Stuart's Guide to Living Cheaply, Stuart Schuffman gives you the basics for being broke and beautiful all over the world. Below is a sample of Stuart's top five suggestions that I, a fabulously cheap bastard, found useful.
- Being broke in another country is far better than being broke wherever you are now: This may sound like wishful thinking but I daresay it might actually be easier to be broke in another country. Simplify your life by selling off what you do not need and use this money as capitol to get you set up somewhere you have never been. Tourist destinations in foreign countries often have a demand for English-speaking employees. You can even score room and board in a resort by working at a job that includes entertaining the constant stream of vacationing beauties.
- Virtual swap meet: Swap.com is an online community that allows you to trade all types of media with others across the US. All you do is log on and enter the barcode number for whatever you have to trade. A list of thousands of things you can trade for will pop up. The site also allows you to pay for postage and to print off the shipping label. After stealing all of Stuart's best ideas, I may put this book up on Swap.com to see what I can get for it.
- Volunteer: Volunteering for any kind of cultural event — music festival, concert, beer fest — is not only a great way to experience the event for free, it is a great way to meet people. After you spend a few hours carousing with fellow volunteers who are also cultured broke-asses, you will have some time and an excuse to interact with the people you met while outfitting them with wristbands.
- Blog: Stuart uses the example of becoming a music blogger to get free CDs and media passes. However, you can do this for virtually anything you are interested in. If you have some writing experience you can even get your name attached to a blog for a legitimate publication, especially if you are willing to write for free. The only catch is that you cannot fake this. You actually have to do the work of writing.
- Drink on the cheap: Anyone who went to college understands the art of drinking on the cheap. Stuart has several suggestions for making your beer dollars go even further. 1.) Offer to buy the bartender a shot and he will show you love the rest of the night in liquid form. 2.) Get straight shots on the rocks for a bigger pour. 3.) Carry a flask and spike your nonalcoholic drinks in the bathroom stalls. 4.) If you are a guy, go to gay bars. 5.) Go out on industry night for cheaper drinks and a chance to make friends with bartenders in your area who are drinking on their night off.
* Bonus Tip - Facebook dating: Who can afford to pay to join a dating site, especially when the best dating site is free? Instead of asking a beautiful stranger out over Facebook, or sending her creepy messages, or requesting her friendship out of the blue, do some minor stalking. Check out who is going to events you are interested in, or go to events your love interest has RSVPed to. When you finally build up the nerve to talk to her in person, do not reveal that you have memorized her Facebook page and definitely avoid going to every event she attends. There is a fine line between romantically pursuing someone and illegally stalking them.