Listed below is a roundup of CL's top picks for comedy shows in Charlotte this week. Hopefully, they keep you entertained and, more importantly, laughing out loud.
• Aries Spears has a thing or two to say about discipline. A longtime cast member of MadTv (seasons 3-10), his sketches and parodies on pop culture has earned him gigs in both the comedy and film biz. His mama might have been tough on him, but he turned out to be pretty good. See a clip from one of his past performances below. $15-$20. Wed., Jan. 25, 8 p.m.; Thurs., Jan. 26, 8 p.m.; Fri., Jan. 27-Sat., Jan. 28, 8 p.m. & 10:15 p.m. 980-321-4702. www.cltcomedyzone.com.

• Mon Frere (pictured below), the Greensboro-based comedy troupe who filled The Mill (now Roux at Boudreaux's) last year during its Harry Potter-inspired sketch shows Hufflepuffed is back — but this time without the brooms and snide comments about Dumbledore. Instead, the troupe has magically maneuvered new material into its act, which is also slated to feature Thunderstood, a one-man multimedia comedy by founding member AJ Schraeder. The show is raising money for travel expenses for Schraeder, who was chosen to attend the San Francisco Sketchfest. Sean Keenan's foul-mouthed Talking Baby opens. $7. Fri., Jan. 27, 8:30 p.m. Roux, 3306 N. Davidson St., Suite A. 704-331-9898. For more information, click here.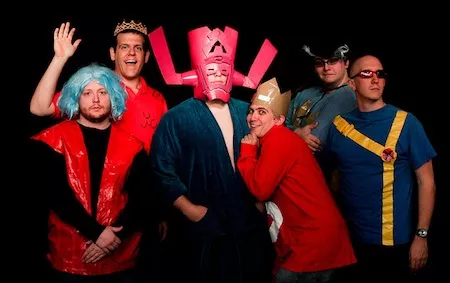 • Local comedians Kayte Malik, Chris Layton, Will Spann, Eric McCrickard, Steve Price and AJ Ellis have teamed up for Black Tie Comedy. Proceeds raised from the show will be donated to support the Cystic Fibrosis Foundation. Cheers to laughing for a good cause! Sat., Jan. 28, 8 p.m. Loft 1523, 1523 Elizabeth Ave. 704-333-5898. www.loft1523.com.