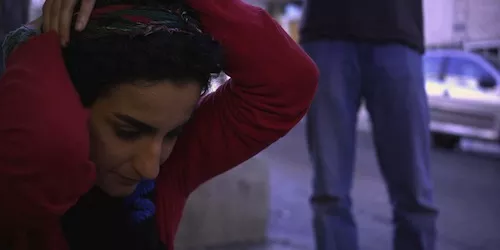 Just because tomorrows (Tues., March 6)
LunaFest
— a traveling film festival and fundraiser to benefit Breast Cancer Fund and Girls on the Run of Charlotte — is comprised of short films by women filmmakers, doesn't mean you should expect to see any "chick flicks." The event, happening at Mint Museum Randolph, features nine culturally diverse films that touch on thought-provoking subject matter covering a wide range of topics like women's health, motherhood, body image, aging, women's rights, romantic relationships and being single.
Saba Riazi's The Wind is Blowing on My Street (pictured) tells the story of a young woman who converses with a stranger while in hiding on a street corner after losing her headscarf in Tehran, where they are required by law. Another film, Laura Green's Lady Razorbacks documents how and why a group of Pacific Islander women launched their own rugby team in California.
Other films include:
Every Mother Counts: Obstetric Fistula, by Christy Turlington Burns
I am a Girl, by Susan Koenig
Life Model, by Lori Petchers
A Reluctant Bride, by Shideh Faramand
Worst Enemy, by Lake Bells
How to Be Alone, by Andrea Dorfman
Missed Connections, by Mary Robertson
Tickets are $25. Cocktail hour starts at 6:30 p.m.; screenings begin at 7 p.m. Mint Museum Randolph, 2730 Randolph Road. To purchase tickets online, visit www.lunafest.org/charlotte.