Fairy tales have dated origins, but they continue to strive as a creative pool of literature that's constantly being dipped into and revised to suit the needs of pop culture (just think of all those Disney classics, and more recent trends in films like Tangled and the spoofy series of Shrek). The modern versions of fairy tales have diluted much of the gruesome endings that their original counterparts contained. Take for instance, "Little Red Riding Hood," first penned by the French writer Charles Perrault. At the end of the story, red riding hood is eaten by the wolf (yikes!). And the moral of the story is? Don't talk to strangers.
When the Brothers Grimm retold the story, a woodcutter who rescues red riding hood and her grandmother (who was eaten by the wolf, but miraculously appears alive and well after the woodcutter chops open the wolfs stomach with his ax — not that that's disturbing or anything — and sets her free) was added (thank goodness!). In Mint Museum Uptown's newest exhibition, titled Fairytales, Fantasies & Fear, this classic fairy tale, as well as others that fall into the same and differing genres such as science fiction, fantasy and horror stories serve as inspiration for a wide range of works.
The exhibition begins in a room serenely brought to life by British designer Tom Price's creative tree constructions. Built out of polypropylene tubing the material was heated, bent, twisted and tied to form the limbs and trunks, while other pieces of tubing were finely cut for the rest of the trees blossoms/body.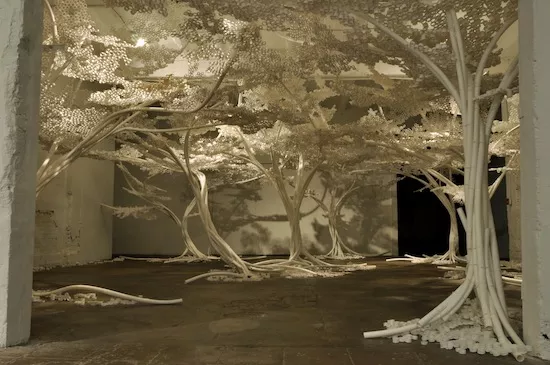 Another captivating arrangement in the exhibition is Italian artist Mattia Biagi's representations of "Little Red Riding Hood" and "Cinderella" stories. Using tar as his main medium, he's constructed a tall wolf with a wide mouth. The wolf has been accessorized with a red cape, skirt and basket. Small strings from multiple tar coatings have caused driblets (reminiscent of blood) across the body of the wolf in addition to the clothing and basket. It's one damn freaky installation. Don't you think?
In the same room is also an enclosed slipper with tar around it and a carriage constructed of frozen fiberglass that was entirely drizzled with layer upon layer of tar. The blackness of the tar gives the carriage a somber appearance and reminded me of Grimm Brothers' not so pleasant ending for Cinderella's stepsisters. After the sisters deviously cut off parts of their feet so they could fit into the slipper, they were caught and paid the cruel price of deception by having their eyes pecked out by pigeons. Then they lived the rest of their lives hobbling around as blind servants, according to the tale. Not that the artist was aiming to reflect this part of the tale (he may or may not have been), but the grimy tar seemed to evoke that of parallel grotesqueness.
In another room, viewers are colorfully reminded of modern day comic book super heroes with large sweater knits of their notable attire. Batman, Hulk and Superman knits were created by artist Mark Newport to help his children cope with the horrors of 9-11. Newport has also done embroidery over comic books, which is framed and displayed along the walls.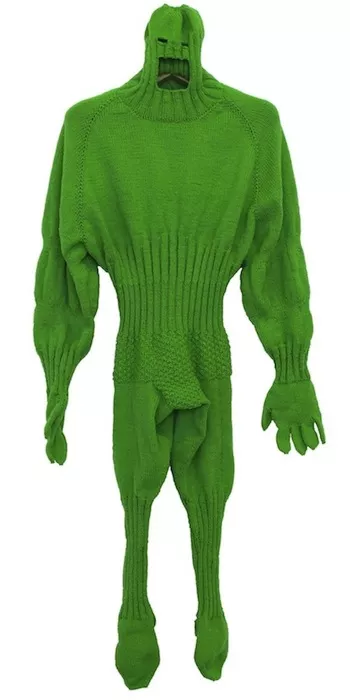 Japanese artist Kako Ueda primarily uses paper as her medium. She intricately cuts designs to represent themes of life and death. Her largest construction — inspired by her mother's near death experience — is that of a skull, decored with vines, flowers, peacock feathers and living insects. Other smaller pieces are similar with elements of paper and watercolors (including one with a sinister looking clown).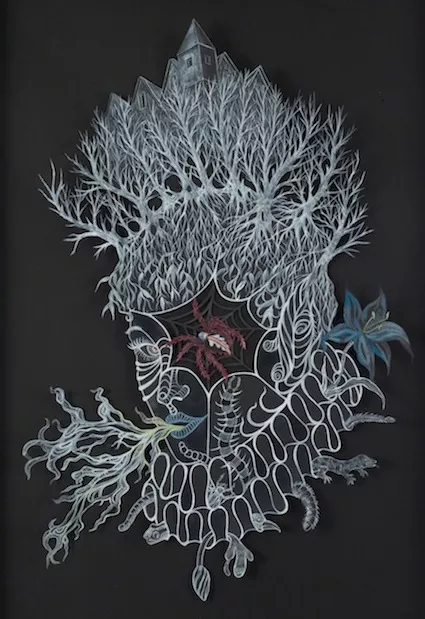 In addition to the artists and works mentioned above, many many other catching pieces by a range of talented artists are showcased in this exhibition. This includes ceramics, sculptures, paintings and more. There's also a cheesy video about fairy tales that's shown on flat-screen TVs throughout the exhibition. Not that you'd come for that. Exhibition continues through July 8. Mint Museum Uptown, 500 S. Tryon St. 704-337-2000. www.mintmuseum.org.