Listed below is a roundup of CL's top picks for comedy shows in Charlotte this week. Hopefully, they keep you entertained and, more importantly, laughing out loud.
Warning:
Aziz Ansari
's rants about everyday occurrences may send innocent victims laughing themselves into near-death experiences. That may be why his current stand-up tour is called Buried Alive? We don't know, but we sure as hell want to see him, regardless of the risk. The comedian and star of NBC's
Parks and Recreation
can make a simple trip to Cold Stone Creamery into a sidesplitting encounter. Ansari, who has Carolina ties - he was born on Colombia, S.C. and grew up in Bennettsville - is even better at mocking celebrity sightings and social functions. Take his commentary on rapper 50 Cent's discovery that grapefruits are
um
, not grapes. We're still laughing about the oranges. (Don't ask. Just go see him.)
$37. June 7, 7:30 p.m. Belk Theater, 130 N. Tryon St. 704-372-1000. www.blumenthalarts.org
.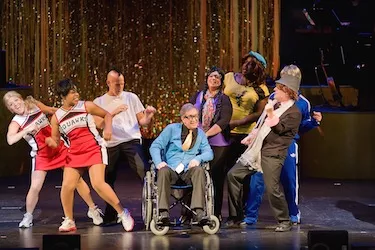 Live from Charlotte, it's
Charlotte Squawks
! The Queen City's version of
Saturday Night Live
is back for its eighth year of parodying the city's pop-culture, politics and sports. For this year's installment, titled "8 Misbehavin'," Squawks creative team Mike Collins and Brian Kahn are collaborating with Charlotte-area singers, dancers, actors and comedians to make fun of everything from our
oh-so-talented
Bobcats to the hoopla over the Democratic National Convention (with spoofs of some of the election's more familiar faces). Promised skits on Cam Newton, Occupy Charlotte and Ballantyne secessionists are already on the menu, making this show a must-see for the sarcastic, satirical-minded.
$29.50 and up. June 8-9, 8 p.m., June 14, 7:30 p.m., June 15-16, 8 p.m., June 21, 7:30 p.m., June 22-23, 8 p.m., June 27-28, 7:30 p.m., June 29-30, 8 p.m. Booth Playhouse, 130 N. Tryon St. 704-372-1000. www.blumenthalarts.org
.
Make sure you know Spanish before you go to the Neighborhood Theatre tonight, or you'll spend the evening with a blank, bewildered smile plastered across your face. Colombian comedian
Suso El Paspi
of comedy talk show
The Suso Show
, is spontaneous and interactive in his act. Sit up front for the full Suso experience, which usually includes one helluva tacky outfit and lots of crazy expressions. Those with a limited Spanish vocab (meaning "si," "gracias," and "quesadilla" are about all you understand) shouldn't fear snagging a close spot either. After all, you'll never know when he starts picking fun in your direction anyway.
$30-$40. June 9, 8:30 p.m. Neighborhood Theatre, 511 E. 36th St. 704-358-9298. www.neighborhoodtheatre.com
.