Julius Powell has worked at the The Smithfield Packing Co. in Lumberton, two hours east of Charlotte, since April 2010. He makes just enough to pay the bills and works long, tiresome hours.
But Powell wasn't at a Southern Worker's Assembly on Monday to complain about his job. He was there to collect information about worker's rights and unions for his colleagues back home.
"We have rights, and we have to express them," he said. "We shouldn't be scared of our supervisors. If they know we know our rights, they'll leave us alone."
As revelers enjoyed musical acts at Uptown's CarolinaFest, union workers from around the country met in south Charlotte to discuss the issues they face on the job and show support for one another's plight.
The Southern Workers Assembly, held for symbolic reasons on Labor Day, was the first of its kind for southeastern union groups. Workers from North Carolina, South Carolina, Georgia, Louisiana, West Virginia, Mississippi and Tennessee attended, though some came from as far as California, New York and Michigan.
"I'm here because I want to see the extent of the organization [in North Carolina] because we have workers down here. I would like to help," said Ron Mattock, an organizer with the United Food and Commercial Workers International Union. The UFCW had a strong presence at the meeting, with all members wearing yellow T-shirts. Many said they'll vote for President Obama in November.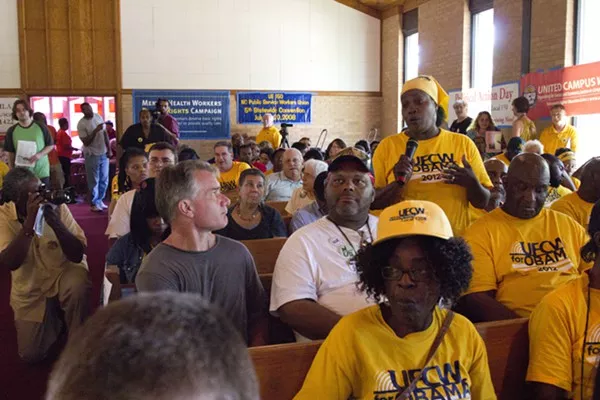 Members of the United Food and Commercial Workers International Union.
Employees in the private and public sector spoke, as well as undocumented immigrants and former convicts - southern workers who are traditionally excluded from organized labor.
In an open letter to Obama, Gov. Beverly Purdue and committees a part of the Democratic National Convention, local UE leaders explained why they chose this week and this city to host the assembly. They wrote that thousands of public sector workers in North Carolina, a right-to-work state that bans collective bargaining, are denied basic rights.
Public-sector employees in North Carolina are allowed to join unions, they just can't pay union dues. Without money, the few that are in the least unionized state in the country are weak. The collective bargaining ban prohibits the state from negotiating employment contracts with employees through unions.
"Despite the added work and dangers for Charlotte city workers in preparation for and in the aftermath of the DNC, and the fact that $50 million in federal funding has been allotted to the city of Charlotte to host the DNC, the city of Charlotte refuses to address the needs and rights of the city workers," read the letter, which was signed by Al Locklear, Richard Petway and Angaza Laughinghouse, all leaders of the UE Local 150.
The letter called for the creation and implementation of a Municipal Workers Bill of Rights.
UE has voiced its support for the Occupy movement through its website. Many of the workers at Monday's meeting marched with the Coalition to March on Wall Street South on Sunday, and lot of protesters from that coalition were at Monday's assembly to show labor rights.
Nic Makhno of Occupy Charleston made the drive up to Charlotte to march on Sunday and attend the Southern Workers Assembly on Monday.
"It's really great to see southern labor come together and try to organize and rebuild the movement," Makhno said. "The labor movement in the South has always had a harder time than a lot of regions. It's good to see so many energetic people committed to the cause."
Jacquelyn Landry was relocated to North Carolina after losing her home to Hurricane Katrina and has been living in Raleigh ever since, where she was introduced to Black Workers for Justice. She said she hoped that the unemployed and underpaid are given some relief soon.
"I would like to see this come to a conclusion and get us out of this bondage that we're in," Landry said.
Douglas Parsons is a concrete worker living in The Men's Shelter on North Tryon Street. He said the assembly gave him hope and encouraged him to join a union.
"I think what has started here today is going to make a lot of changes as far as jobs and opportunities."
Ana McKenzie contributed to this report.