Editor's note: In this series, local author David Aaron Moore answers reader-submitted questions about unusual, noteworthy or historic people, places and things in Charlotte. Submit inquires to davidaaronmoore@post.com.

Charlotte seems to be sorely lacking in historic hotels. In fact, I can't think of any, save the beautiful old Dunhill. What do you know about its history? - Martin Kiznek, Chattanooga, Tenn.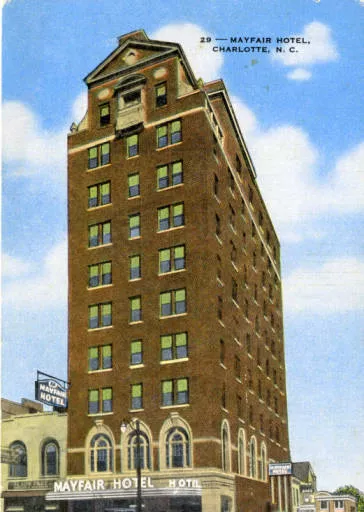 Charlotte was once full of historic hotels. Hotel Charlotte, The Selwyn Hotel, The Mecklenburg Hotel and the Travelers Hotel, among others, are fine examples of once-classic overnight establishments that began as respectable (some even high-end) hotels that have vanished into the rubble of time. Most were replaced either by soaring glass and steel skyscrapers, or parking lots.
Aside from The Dunhill, The Barringer Hotel still stands and is known as Hall House, which provides studios and one-bedroom apartments for the elderly.
For overnight stays in a historic hotel, The Dunhill is your only option. But while I researched its history, I discovered a tragic mystery.
Designed by architect Louis H. Asbury, it opened to the public in November 1929 as The Mayfair Manor, boasting a light-handed touch of glamor and elegance in a difficult financial period: ten stories, terrazzo tile on the first and tenth floors, and 100 rooms that boasted their own bathrooms and radios.
At the time of its opening, one of the hotel's developers, Dr. J.P. Matheson, occupied the front penthouse (which still has a small balcony overlooking Tryon Street), and Independence Bank exec Julian Little lived in the rear penthouse.
The Mayfair offered other upscale amenities for the day, including a restaurant, barber shop, and a lounge with a fireplace, where guests could meet with friends. Although Matheson died in 1937, the hotel continued to operate until 1959, when it was sold to D.L. Philips. The following year, he changed the name of the hotel to the James Lee Motor Inn.
Over the next two decades, the property would change hands and take a downward spiral into something short of a flophouse.
Mismanagement by different owners and a failed investment attempt by a Swiss company resulted in the closing of the hotel. In 1987, it was purchased by Dunhill Hotel Associates, who began a complete gutting and re-tooling of the property, creating the 60-room and decidedly more luxurious hotel that stands at 237 North Tryon St.
In a nutshell, that's the answer to your question. But it's not all the interesting information I uncovered while digging around historic files on the legendary site.
One headline from the Charlotte Observer, dated Feb. 10, 1988, grabbed my attention like nobody's business: Workers Find Skull, Bones in Former Hotel's Basement.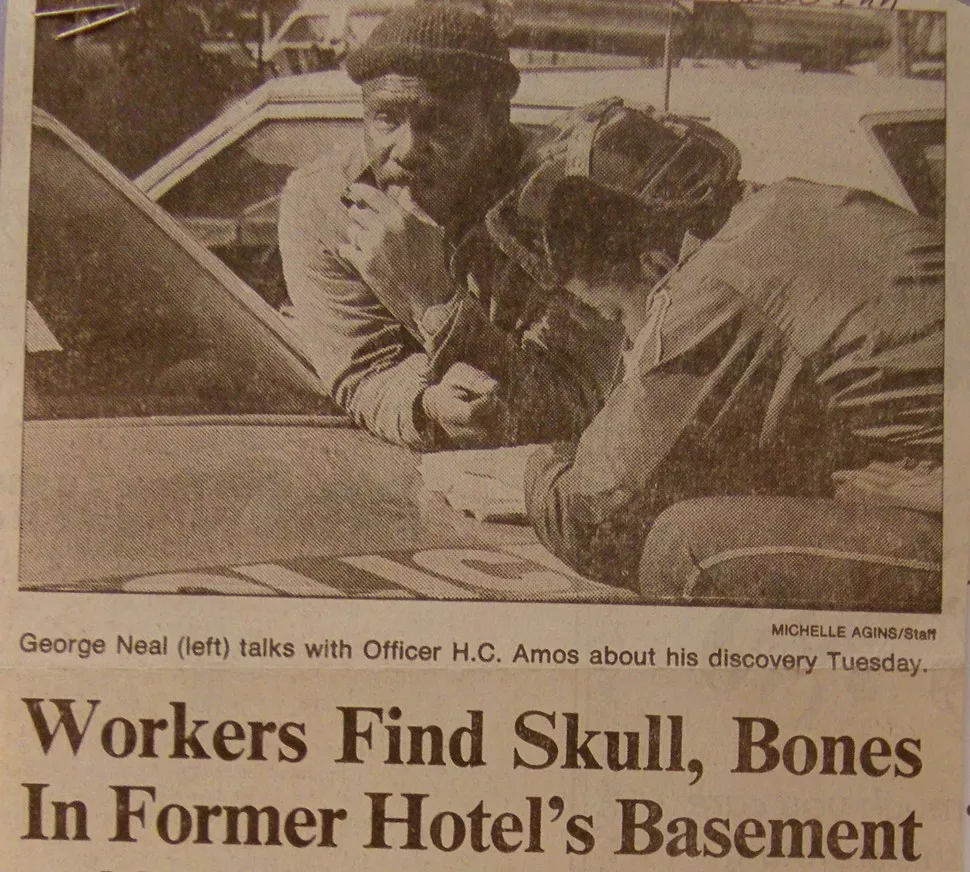 Between the demise of the James Lee and the reopening of the Dunhill, the structure was left more or less uninhabited from October 1981, until the redevelopment project began in 1987. It was during that process that a shocking discovery was uncovered in February 1988. While cleaning out an elevator shaft near the basement boiler room, George Neal, a laborer for D.L. Rogers Construction, found what was eventually determined to be a human skeleton, in pieces. Clothing that the deceased individual had worn was still present, and forensic experts determined the bones belonged to an elderly Caucasian man, who was approximately 5'8", probably walked with a limp, and had a distinct malformation of his left hand, which may or may not have been visible.
A police officer quoted in the Observer story indicated that he had encountered multiple homeless people taking shelter in the spot during the time it was closed. "This was one of their favorite spots," said Officer E.G. Blue. "That body could have been buried down there for god knows how long."
Stories focusing on the morbid discovery appeared in the local media only twice more before quickly losing the public's attention. In one of those stories, a medical examiner indicated that it was likely the man died two to five years before the discovery of the body, or sometime between 1983 and 1986.
"Probably," said CMPD Homicide Detective Technician Christie Osorio in a phone conversation earlier this week. "Depending on the conditions - exposure to extreme heat and extreme cold - you would be surprised at how rapidly tissue can completely disappear from a skeleton."
Given the age of the reported occurrence, Osorio said it might be difficult to determine the outcome of the story. Less than a day later, however, Osorio responded with this email: "We have been able to determine that this individual was never positively identified and no one was charged in relationship to this case."
In essence, a physically challenged, elderly man, probably homeless and forgotten by any family or friends - if, indeed, there were any - quite likely fell (or perhaps was pushed) to his death down an elevator shaft.
Osorio indicated that it was unclear as to what became of the Dunhill skeleton. Was it buried in a potter's field in Charlotte's Evergreen Cemetery? Was it cremated and spread at sea, or were the bones shipped elsewhere for storage and later examination? Perhaps more importantly, how did he die, and why was he never missed?
Moore is the author of "Charlotte: Murder, Mystery and Mayhem." His writings have appeared in numerous publications throughout the U.S. and Canada.