As the headline suggests, here are a few picks of exhibit openings and receptions to check out this week in Charlotte and the surrounding area - as selected by the folks at Creative Loafing.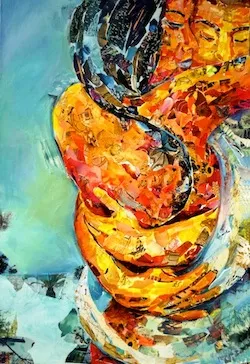 Mixed-media artist
Monique Luck
adds lots of depth to her soulful creations. They flow with a blend of colors and designs that connect to form an intricate map of some of her deepest moments and struggles in life. Luck, a self-taught artist and muralist, was recently honored as the grand prize winner of the Bearden Inspired Collage Contest hosted by the Mint Museum of Art. Her newest exhibit,
In Pieces
, will showcase a collection of her artwork to the Lake Norman community - and those willing enough to make the worthy commute to Cornelius Arts Center.
Opening reception on Fri., March 1, from 6 p.m. to 9 p.m. Free admission. Exhibit continues through March 22. Cornelius Arts Center, 19725 Oak St. 704-896-8823. www.corneliusartscenter.org
.
Memento Vitae
, the latest exhibit held at AKA Creative, features some impressive works by two artists from the Charlotte community.
Lydia Jean Goldbeck
paints large, rustic portraits of folks on warped canvases. She does so without glossing over the pain and suffering of everyday existence, shown through figures that seem melancholy and somewhat void. Meanwhile,
Sara Catapano
sculpts strange pieces inspired by exotic species and fragile organisms found in nature.
Opening reception, Fri., March 1, 8 p.m. to 10 p.m. Exhibit continues through March 28. AKA Creative, 316 Remount Road. www.akacreative.com
.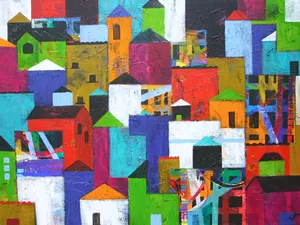 Ciel Gallery's
Color
exhibit continues tonight during South End's gallery crawl. The exhibit features art from locals like
Tina Alberni
. Alberni draws inspiration from her Cuban-American heritage, as well as the world around her. The focus of her latest series,
Urban Isolation
, draws heavily on her former home and from the idea that humans are connecting less due to an increased dependence on technology. Artwork by Wanda Hanson and other Ciel partners will also be showcased.
Fri., March 1, 6 p.m. to 9 p.m. Free admission. Exhibit continues through March 30. Ciel Gallery + Mosaic Studio, 128-C East Park Ave. www.cielcharlotte.com
.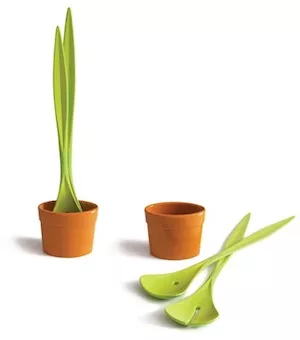 In recent years, objects used for eating and drinking have taken interesting new turns - rubber ducky tea infusers are plenty proof of that! Mint Museum Uptown's newest exhibit
F.O.O.D (Food, Objects, Objectives, Design)
takes this concept a step further by showcasing innovative objects that are used to prepare, cook or present food.
Antoni Miralda
, an artist from Spain, curates the exhibit with products showcased from Alessi and black+blum. The exhibit is comprised of appliances and devices spread out among four categories: table, kitchen, pantry and garden. Be sure to pick up a "menu," that lists specific details about each object, on your way in. Another new exhibit,
Return to the Sea: Saltworks by Motoi Yamamoto
, also opens today. Yamamoto is a Japanese artist known for constructing intricate installations made of salt. They resemble landscapes, weather patterns, and cells. At 1:30 p.m., Yamamoto will be onsite to sweep away "Floating Garden," an installation he created specifically for the Mint's atrium. The public is invited to watch and take a small capsule of salt from the work to be later released into a body of water.
$5-$10. F.O.O.D (Food, Objects, Objectives, Design) opens Sat., March 2 and continues through July 7. Return to the Sea: Saltworks by Motoi Yamamoto opens Sat., March 2 and continues through May 26. Mint Museum Uptown, 500 S. Tryon St. 704-337-2000. www.mintmuseum.org
.
Mixed media artist,
Christy Kinard
's floral designs are busy and vibrant like a patchwork quilt. Layers of paint and materials come together to reveal texturized foundations and patterns highlighted with colors. The Atlanta-based artist will visit Shain Gallery in Charlotte for a special meet and greet.
Sat., March 2, 3 p.m.-5 p.m. Free admission. Shain Gallery, 2823 Selwyn Ave. www.shaingallery.com
.