When you walk down the street and see a piece of paper on the ground, you're likely to see it as trash. But, that's not the case for Monique Luck. This California-native and self-taught mixed-media artist sees a scrap of paper as something she can turn into art. Luck, who now resides in Charlotte, will showcase her newest works at Cornelius Arts Center up at Lake Norman through March 22.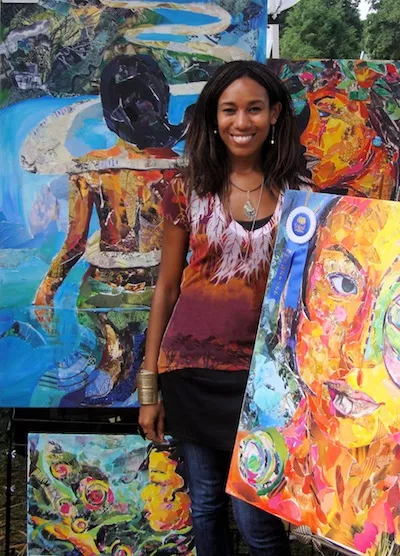 In 2012, Luck was the grand prize winner of the Bearden Inspired Collage Contest hosted by the Mint Museum of Art to coincide with the museum's Romare Bearden exhibit. As an avid reader of Creative Loafing, she saw the contest advertised is one of its issues and decided to enter. She used recycled paper from the pages of CL in her winning piece of artwork, dubbed "Do Everything You Love!"
Luck began using found paper to create art after teaching a collage workshop for kids. "We used found materials to create an installation for the school. The kids had such a great time and I decided to create a piece for myself for fun," says Luck. "I had just finished a large 2,000 square foot mural and needed a break from painting. I fell in love with the process and have incorporated found paper in my work ever since."
Her artistic process initially starts with an emotion or feeling that blossoms into an idea. After picturing the piece in her mind, she starts looking for pieces of paper that will help her vision come to life. She tells us that she sometimes spends hours looking for the right scraps of paper. The result is artwork that's colorful and layered in textures, giving it a richness of body and beauty.

Luck's In Pieces exhibit features works that incorporate pieces of recycled paper, as well as acrylic paint, scraps of fabric and other found materials. In addition to new works, visitors to the exhibit will also get to an intimate view at pieces (not for sale) from Luck's personal collection.
Free admission. Exhibition continues through March 22. Cornelius Arts Center, 19725 Oak St. 704-896-8823. www.corneliusartscenter.org.