Peter Murphy
Tremont Music Hall
May 3, 2013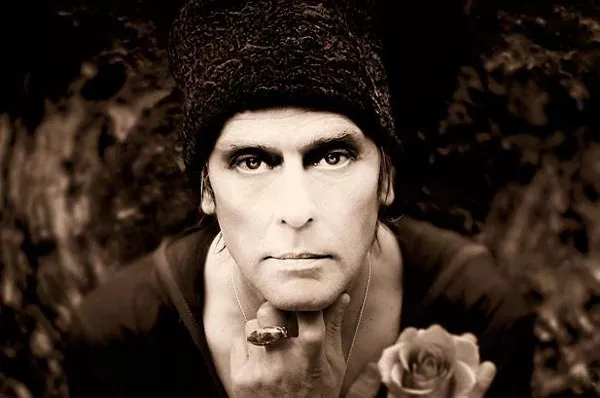 I was introduced to Peter Murphy's legendary goth-rock band Bauhaus when I bought
The Sky's Gone Out
LP in 1982, but I didn't really "get" Bauhaus until eight years later when I became a part-time vampire.
I played Dracula at a year round haunted house in Orlando called Terror on Church Street. As you might guess, my co-workers were goth kids, enamored with Bauhaus and all its demon spawn, but that's not what turned me on to Murphy and his unearthly crew. My job was to jump out of a coffin and scare tourists. After my first impact, I would duck behind the set, making a beeline to a mechanical lift while the spooked patrons wound through a dark labyrinth. Cutting my victims off at the pass, I'd switch on a light, hit the lift and soar straight up the wall. I was continually surprised by the stunning effect this goofy bit of fairground stagecraft had on the Terror patrons. Grown men wept. Women ran screaming into the darkness banging into the (well padded) walls. People dropped to their knees, pissed themselves and prayed.
Playing Coachella at Bauhaus' last reunion in 2005, Peter Murphy dwarfed my feeble scare tactics. While the band vamped the opening of international goth anthem "Bela Lugosi's Dead," Murphy slid out onstage hanging upside down. Suspended like a huge bat, he sang the song in his trademarked deep sepulchral croon - all damn 10 minutes of it! It was a grandstanding performance that encapsulates the goth genre that Murphy spawned - sublimely ridiculous and deeply impressive.
Sure goth rock draws on the dark and swoony romance of a bygone Byronic era. True, it trades on fantasy and wish fulfillment. Yet Bauhaus, in music and in presentation, attempted to come to grips with mortality and what it means to be human, walking a fine-art line between perceptiveness and pretension.
Bringing his all-Bauhaus Mr. Moonlight show to the Tremont on Friday, May 3, Murphy didn't do anything as Gotterdammerung as dropping down from the rafters, but he opened with the spare but effective stagecraft that defined the evening's performance. The band played the haunting waltz-time madrigal "King Volcano" in utter darkness, bringing the lights up only at song's end. After that, Murphy, guitarist Mark Gemini Thwaite, bassist Emilio China and drummer Nick Lucero launched an all-out assault, front-loading the set with harder-edged material from Bauhaus' early singles and their first and darkest LP In the Flat Field. At times, the young band's attack was too feedback-laden and ferocious, pummeling where Bauhaus had been precise.
Yet, by the time Murphy launched into "Kick in the Eye," both sound and performance had been tweaked, and the band amped-up the hip-shaking funkiness that is only hinted at in "Kick's" studio recording. The majestic "Silent Hedges" benefited from a swirling prog-rock crescendo, and Murphy picked up an acoustic guitar for the plaintive "All We Ever Wanted Was Everything," leaving the audience enraptured with Bauhaus' prettiest tune.
Musically, Bauhaus is unlike the goth and industrial bands they influenced. Murphy and his former band-mates were artsy, experimental post-punks, and their repertoire married goth's stereotypical jagged chords and roiling basslines with musique concrete, No Wave skronk and soaring classicism. Happily, Murphy's hired guns did ample justice to Bauhaus' legacy.
At 55, Murphy looks his age, but he seems sturdy and healthy, and his face retains its sculpted unearthly beauty. At first, Murphy's movements were spare. Where once he swanned like movie queen Loretta Young flouncing down a grand staircase, Murphy began the set strutting like a leather-jacketed peacock.
As the show progressed, Murphy didn't loosen up so much as ramp it up. By the time he and the band kicked into "The Passion of Lovers," Murphy was whirling like a dervish, unleashing a blood-curdling howl. Using a portable light bar, he illuminated his eyes and those of his players at key dramatic moments, and Murphy dialed-in atmospheric electronic noise on an instrument panel as the band stretched out the opening of "Bela Lugosi" into a sepulchral prick tease. During "The Three Shadows" he indulged in a campy cockney accented quote of David Bowie's "Be My Wife."
For the full-throated encore of Bowie's "Ziggy Stardust," Murphy arched out over the edge of the stage. Arms pinioned like great wings, Murphy gazed at the capacity crowd like a cross between a leering gargoyle and Kate Winslet on the prow of the Titanic.
The biggest surprise of the evening was Murphy's rapport and affection for his band and audience. For someone noted for his over-fed ego - in interviews prior to the Tremont show Murphy trashed Bowie, Iggy Pop and his former Bauhaus band-mates - Murphy seems like a really nice guy. Five numbers into his set, he brought out and praised opening band My Jerusalem, noting that this was the openers' last night on the tour.
Covered in sweat after "The Passion of Lovers," Murphy grabbed a towel not to wipe his face, but that of guitarist Gemini Thwaite. This gentle gesture drew a chorus of "Awwww"s from several women in the audience. Directing the band's volume and performance throughout the evening with precise gestures, Murphy was less imperious conductor than kindly father figure. Who knew that the Godfather of Goth was such a sweetheart?
Above all, the power, passion and precision of Murphy's voice remains undeniable and undimmed by time. Former Bauhaus bassist David J. has noted that it's a voice "that demands attention and always, always gets it." As Friday's show proved, it's attention that Murphy has also earned and deserves. As a performer, Peter Murphy is a seductive entertainer, less Prince of Darkness than pop-art Lord Byron - mad, bad and dangerous to know. God bless him for it.