Editor's note: In this series, local author David Aaron Moore answers reader-submitted questions about unusual, noteworthy or historic people, places and things in Charlotte. Submit inquires to davidaaronmoore@gmail.com.
I recently moved from Houston to Charlotte and just finished setting up my apartment in Gateway Village. Is there a park close by - some place relatively accessible, visually pleasing - with at least a touch of history? - Rachel Berchowitz, Charlotte
For a peaceful uptown getaway, check out one of my favorite spots in the entire city: Elmwood/Pinewood Cemetery, which I've written about before. It's packed full of some amazing funerary sculptures, mature oaks, tons of history, and a serene environment unlike any other in Charlotte. Hopefully you're not squeamish about cemeteries.
If you're looking for a park in the proper sense, check out nearby Frazier Park. It's an easy walk from Gateway Village down Trade Street with a left on Sycamore. It's immediately on your right. For any non inner-city dwellers interested in checking out Frazier, I'd suggest parking on a side street in south Wesley Heights. Whether you choose Walnut, Grandin or Summit, take Litaker east toward uptown and you'll end up on the Greenway, which takes you beneath the cavernous interstate bridge and a pathway that follows Irwin Creek and leads you into the park. (The Greenway skirts underneath Fourth Street in the first of a series of tunnels, which continue beside Irwin Creek underneath Trade and Fifth streets. It winds to a close at Ray's Splash Planet, a city-owned and operated facility that offers swimming, exercise equipment and other recreational opportunities.)
Although Frazier is about to hit the 40-year-old mark, it's surrounded by much older history - and much of it is seemingly undiscovered, or at least forgotten. There's the obvious, like the beautiful old trees (many well over 100 years old) and stately early 20th century homes to be found in Wesley Heights and Third Ward. And then there's the not-so-obvious.
As you walk along the pathway beside Irwin Creek, note the old rail tracks that carried both steam and electric trains, bound for the old Lakewood Amusement Park (out of a much smaller Charlotte) and neighborhoods today that were then considered towns of their own, like Berryhill Township and Thrift.
Notice the old bridge that crosses Irwin Creek. It's mostly buried behind a city-erected fence and overgrown shrubbery - but it's still there, in all its decaying glory. Imagine yourself back in the 1920s after a long day at work in Charlotte, trundling in a trolley over that bridge as you head to your home in a nearby town. Also, notice the stone retaining wall along the east side of Irwin Creek, which clearly dates back to the 19th century.
Scenes from Frazier Park: A forgotten trolley bridge...
...spooky tunnels and viaducts...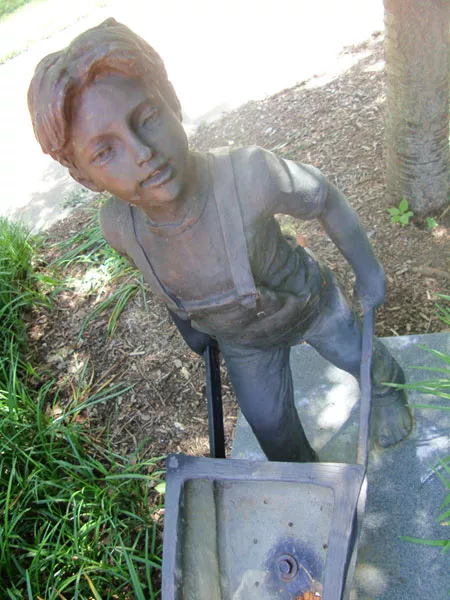 ...and bronze Children of the Corn statues.
Moore is the author of Charlotte: Murder, Mystery and Mayhem. His writings have appeared in numerous publications throughout the U.S. and Canada.