The folks who make up Eastland Area Strategies Team - a volunteer group that's been working to establish goals for the former Eastland Mall, as well as East Charlotte as a whole - met with the media yesterday to share information on the preservation of the defunct mall's "Rising Sun" signs.

The signs, four in total, hung at various entrances to the former mall that opened in 1975. The media got a special glimpse at the signs, all having been placed on the ground except for one, which was lifted and lowered down by a crane during the event.
E.A.S.T. hopes to find the "Rising Sun" signs a new home within the East Charlotte community. This repurposing is being dubbed "a new day dawning." The signs placement at Eastland Mall was reflective of the sun's rising in the east.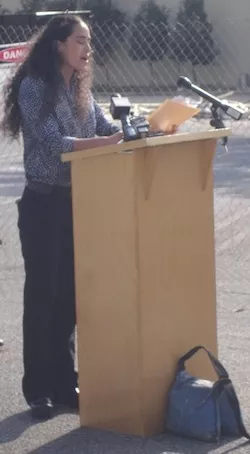 Local artist Martique Lorray, a member of the board, spoke of the icons' significance and gave thanks to everyone who has helped to make their preservation, safe-keeping and storage possible. She believes that the signs have the potential to serve as public art and hopes to even have them established as a historic landmark in Charlotte. The Arts & Science Council will help E.A.S.T. in designing and relocating the future art project, estimated at completion in three years.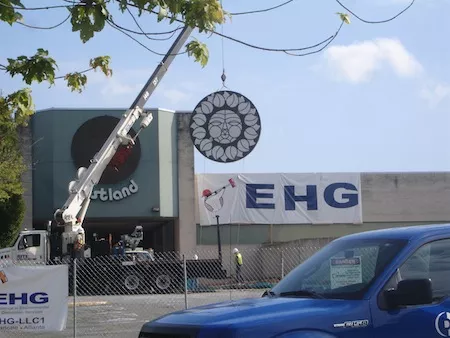 As a longtime Charlottean, seeing the "Rising Sun" signs registered with me on a nostalgic level. Growing up, I frequented Eastland Mall with my grandmother, who would patiently manage my curiosity to "touch things without breaking" and to watch ice-skating for hours on end. One thing that was the same for every trip: my staring up at the "Rising Sun" signs, sometimes even wishing I could pinch those round cheeks. I'm proud to hear they are getting another chance to thrive in the Q.C. Look for updates, as we learn more about the future placement.