This week saw the release of Death of Wolverine #1, the first installment in a limited series that puts the nail in the coffin for everyone's favorite Canadian mutant. Comic Afterthoughts is marking the occasion by discussing our six favorite stories starring ol' Logan — one for every claw. These stories span the timeline of both the character's comic and publication history. Did we get it right? Or are we missing an obvious tale? Who knows; after this month's series, we may have to add another to the list. For now, let's take a look at the bloody and heroic trail that's brought us here.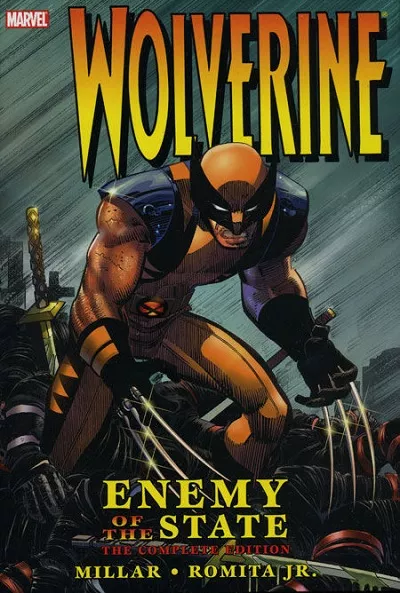 Enemy of the State
Mark Millar's blockbuster, 12-issue narrative begins with a familiar device, if you're reading comics right now: the death of Wolvie. He's resurrected and brainwashed by the professional ninjas of The Hand. He's then used to steal plans from S.H.I.E.L.D. and kill all sorts of folks (even a fellow Canadian mutant). The reason this book makes the list? It's printed proof that Wolverine stories can get as big as they are brutal. And Millar's plotting is beautifully executed by artist John Romita Jr. The penciler can be polarizing in his trademark, loose style, but for the dozen of issues that comprises this tale, it works.
Origin
When Marvel first announced that it was going to tell the real, canon origin of the most mysterious X-Men in the stable, fans were split in their reaction. Joe Quesada decided to double down and create the covers for the series that's written by Paul Jenkins and drawn by Andy Kubert. Jenkins was a tested brand, having delivered groundbreaking runs on
Inhumans
and
The Sentry
. With this story, he took a similar approach; nuanced, slow development with big, "a-ha" moments. With this story, we got a timeframe, a birthname, and an explanation for his sunny disposition, all packaged in a shiny set of digitally painted books.
Wolverine
by Claremont & Miller
You have to include the ninja years; you just have to. Master X-Men scribe Chris Claremont is joined by the ever-controversial and ever-stylized Frank Miller, producing the character's first solo series. It's in this book that we are introduced to the relationship between Logan and The Hand. Claremont and Miller offer one of the Wolverine's most intriguing traits: his samurai roots. In these four issues, so much of how we understand the character in a modern sense is revealed. We also read more about Mariko, one of Wolvie's great loves, and the continued tragedy that is his romantic life.
Old Man Logan
If you enjoy Steve McNiven's art in
Death of Wolverine
, check out this tale written by Mark Millar (yes, another of his to appear on this list). Old Man Logan may seem silly now, as it's placed 50 years in the future with a very-much-alive Wolverine. But put all that aside and just enjoy a great ride, with familiar faces and an unfamiliar world. A group of supervillains invade the X-Mansion. Through an illusion from Mysterio, Wolverine finds that instead of killing the intruders, he's killed all of his friends and family. He keeps his claws inside for decades after, but as you can guess, something brings him out of retirement.
Astonishing X-Men
Joss Whedon gets nearly every character right in his
Astonishing X-Men
run, but one of the best relationships in a book that hinges on relationships is that of Wolvie and Armor. The would-be X-Men looks up to Logan for guidance and training. But during the course of the series, he's having his own battles. For one, he's dealing with the broader drama facing the X-Men, taking him to space and beyond. But in a revealing sequence, his mind is altered and reverted back to his childhood self. It's one of the funniest and most poignant of his stories to date. John Cassaday's gorgeous art also helps.
Weapon X
Barry Windsor-Smith's arc fleshes out Wolverine's time as the subject in the Weapon X project. While others in this list may reflect the character's personality, this tale strips that away and sees him as a stalking animal, lurking in the lab in which he was created. It's more of a horror tale than a capes and tights affair. It's a brutal thing to witness, but it explains the terrible lengths that the Weapon X team took to make him theirs. Thankfully, it doesn't last long. Windsor-Smith wrote and illustrated this classic story.