Editor's Note: This story is the first of an ongoing series about the local nonprofit world, thanks to a partnership with Give N Go. Give N Go's mission is to support established and emerging nonprofits by providing them with the tools to promote their causes effectively through traditional and nontraditional marketing.
Mahatma Gandhi once said, "You must be the change you wish to see in the world." As simple as it sounds, for most it's a very hard first step. For one local athlete, though, this daily walk has become a lifestyle. Through his innate leadership abilities and collected confidence, Carolina Panthers linebacker Thomas Davis has not only proved himself a valuable member of the franchise, but a champion for community service with his foundation, The Thomas Davis Defending Dreams Foundation (TDDDF). TDDDF was organized in 2007 by Davis and his wife Kelly, and they follow a very precise mission of "defending the dreams of disadvantaged youth by giving them access to unique opportunities they normally wouldn't receive."
Since inception TDDDF has served more than 2,100 families in the Carolinas and Georgia by providing activities such as afterschool programming and toy drives.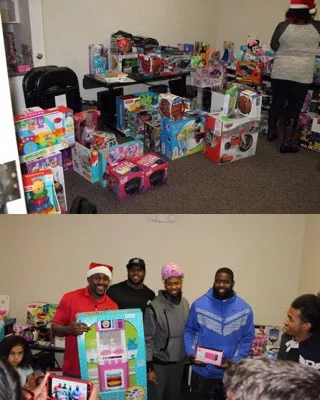 The foundation is laser focused on mentoring middle school-aged youth, giving them practical skills for the 21st century. The organization has also impacted those same communities by providing more than $500,000 in grants, sponsorships and donations.
Being a product of Shellman County, Georgia, one of the more poverty stricken areas in that state, no one exemplifies the "Keep Pounding" mantra more than Davis. With the young men and women whom he helps daily, he provides a constant reminder of a brighter future. More importantly, he plants the seeds of hope for tomorrow's young leaders.
Davis is again the Panthers' nominee for the Walter Payton Man of the Year award, an honor based on community service as well as on-field excellence. When Davis was announced as the Panthers' nominee in November, owner Jerry Richardson issued a statement that read in part: "I have had the pleasure of watching Thomas Davis grow into the confident, mature, caring man he is today. No one takes his position of influence more seriously than Thomas on the field or in the community."
With our collective fingers crossed, let's hope that this much deserving nominee is rewarded a second time around. Davis and the rest of the Carolina Panthers will be playing the Seattle Seahawks tonight at 8:15 p.m.
Check out video from TDDDF's annual toy drive last year, where the foundation was able to provide more than 300 toys ranging from tablets to bikes for underserved families in the Citiside neighborhood.