Hopscotch 2012, the Independent Weekly's third annual mega-fest, saw close to 200 bands play more than a dozen Raleigh venues from September 6-8. It's a beautiful, exhausting, strange and occasionally frustrating time. There's plenty of bouncing from venue to venue, but also plenty of arriving too late — or too early — to fit a show in. And there's plenty of running into new or old friends, fellow music nerds or artists on the street — and talking for 35 minutes instead of stepping into a venue. But there were moments that stood out — for good, bad and ugly reasons — so here are a few.
Five moments of transcendence
For this section I'm leaving out the obvious or the predictable. There were acts I saw that I loved, but I expected to love them — Sunn O))), Valient Thorr, Screaming Females and Jon Mueller's Death Blues. I'm leaving those off the list because I'd rather talk about the unexpected greatness of outfits I either knew nothing or very little about — and ended up utterly loving. This is about walking into a room and having the artists onstage blow the doors off the inside of your skull before you even know what's happening. These are the happy accidents.
Cities Aviv wasn't even on my radar, but some of my friends were curious and I followed them into the Pour House for what ended up being the most amazing set of my Hopscotch experience. Imagine Throbbing Gristle as a wide-open, antagonistic punk-rapper. Cities stalked the stage, yelling "fuck everybody here!" while his hype man knelt, curled into a ball of dangerous frustration. They repeatedly pushed into the crowd, moshing and shoving and splashing liquor.
I couldn't pull myself away from the purity of Cities' confrontational aggression and I started tweeting like mad, stuff like "WHY ARENT YOU AT THE POUR HOUSE RIGHT NOW OMIGOD" — I remember, because that's what I was tweeting when the hype man hit hard me on the shoulder and vaulted over me into the room Cities Aviv had cleared. That moment of connection, of "You. Yes, you. Put down your phone and pay attention," was the pivotal moment of my entire 2012 festival experience — and maybe 20 people were there for it. I want these guys to come back soon, and I want a longer set.
Burglar Fucker
is a Winston-Salem trio with a stage performance as chaotic and wild as its oddball baritone guitar, sax and drums noise-punk. Slim's, an 80-capacity dive bar, was the perfect room for their rowdy loudness. Saxophonist Ryan Pritts stood on a speaker and shook the hanging mains as he blasted on his horn. The heavy PA speakers swayed alarmingly on their chains, directly above audience members' fragile little heads. He and baritone guitarist Anthony Petrovic charged the crowd repeatedly — Pritts even crowdsurfed while he played. The mic kept going out. People kept rushing the stage and knocking out Petrovic's guitar cable. And it was all so perfect.
Nobunny was on his best behavior — he played an art museum, after all — but remained one hell of a performer, even though he kept all his clothes on (he showed his butt once, but just once). I expected his absurd, halfway-to-exhibitionist set to rule — it did — but I was still fairly wowed by Nobunny's sheer strength as a natural performer. He wore a faded and filthy bunny mask, leather coat and S&M chest straps, and black briefs — and energized the crowd with a bizarre, flippant, and celebratory garage-rock set. What gave me the warm fuzzies, though, was when he took a fan's video camera and held it out to film himself performing before giving the camera back to its wowed and grateful owner. I'll say it again: what a performer.
Roomrunner sounded like early Nirvana and sounded like Mudhoney, but sounded like itself. I'd listened to samples online, which I dug, but hadn't had a chance to properly get into this Baltimore band's catalog just yet. That's going to be rectified quite soon: even within steadily-growing '90s-worship, this was no tribute act. Roomrunner possesses all the reckless energy and drive that made early '90s west coast noise-punk so great. The guitarists play in these awesome, accidental-sounding tunings — and the bassist's Fulldrive-bolstered low-end (for you pedal nerds, try that combination!) laid a righteous crunch-and-fuzz. During the last two songs, Dan Deacon appeared in the window behind the drummer and watched his citymates' righteous set. Talk about a bizarre (and kinda funny) juxtaposition.
Hacienda played after J Kutchma and the Five Fifths. I had misread the schedule, and thought I was making it in time to see the latter — still sad I missed them — but I really enjoyed Hacienda's Americana-oriented rock. Their guitarist had to be hot as hell in that denim coat, though.
Honorable mention:
* Ducking out of a severe thunderstorm to eat burgers and wings in Tir na nOg while Minor Stars soundchecked.
* Every year, apparently, there's a debutante ball (is that a band name? Some band should have that name) in the Sheraton adjoining the main outdoor stage. There's something absolutely refreshing about seeing such a dinosaur of faux-gentility, dressed in finery and pearls, lumbering through a modern mega-fest. Then again, I live for that level of cognitive dissonance. During Built to Spill — one of the gentlest rock bands on the lineup, really — I saw a white-haired man in a tuxedo practically sprinting through the crowd, leading his wife like one would lead a stubborn puppy. Just wow.
Five moments of dammit I don't really want to talk about it. But I will.
Missing G-Side — This almost ruined Thursday night for me, as this Huntsville, Ala., hip-hop outfit was one of my favorite bands on Hopscotch's lineup. Their LP gets regular spin in my car, and I was jazzed as hell to see them live. So when I rolled by the Pour House at 1 a.m. to catch the end of their 12:30 set, only to find an empty stage and an empty room, I was genuinely pissed. Evidently, one of the bands on that bill played a long set — and the venue reacted by shortening everyone else's. And I missed out on one of the most essential modern hip-hop acts. No, I was robbed.
Seeing Deerhoof — Not so much "dammit" as boring. There were some cool moments, but there was no coherence. Rather, the band awkwardly plodded through sequences of tacked-together riffs and cute-noise segments while posturing like indie badasses. I felt like I'd made a bad call the moment I walked in, and I didn't stay long.
Liars in a concert hall
— Liars played amazing music to 75 or 80 folks in the troublingly cavernous Memorial Hall. About 40 fans stood and danced in front of a little crowd barrier, while a scattered constellation of people sat out in the auditorium seats. With the far reaches of the auditorium lost to shadow, the back of the sizable room seemed to recede to empty infinity. It was a great space for Sunn O)))'s pagan drone-worship, which I closed the fest with, but it was the wrong room for many bands. Liars should have been in a club.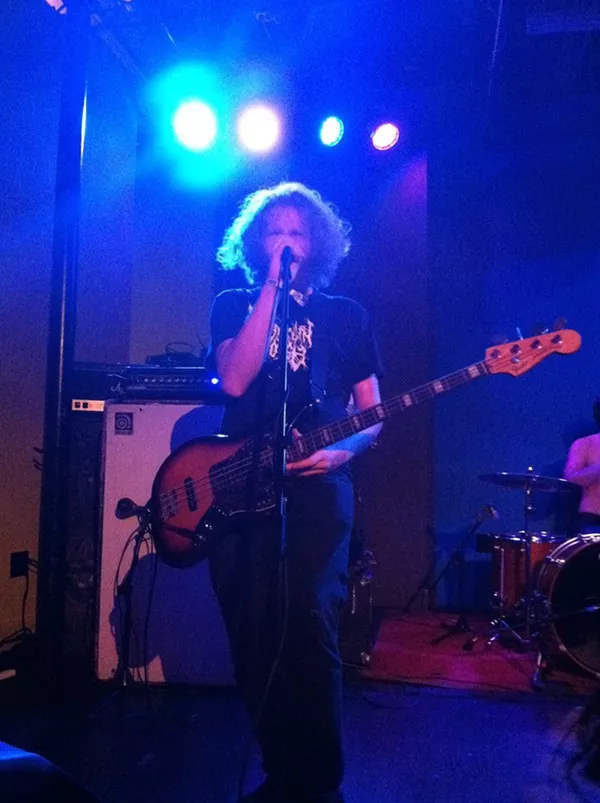 Scott Endres' broken thumb
— Scott Endres, guitarist for Chapel Hill's excellent drone-doom trio MAKE, seriously fucked up his right thumb before his band's Friday set. It may be broken, he doesn't even know. Last time I talked with him, he hadn't even been to a doctor. His band played an amazing, high-volume set to an appreciative crowd. MAKE balances patience and intensity so well, mining ferocity and resignation in equal measure. I just feel bad for poor Endres, who was in excruciating pain the entire set (the right hand is the picking hand, you know). He's such a nice guy.
Corbie Hill's broken windshield — When I stepped out on Thursday to head to Raleigh, I saw that a branch had fallen on my car and cracked the windshield. It hit so hard that it had turned on the inside lights, and now I have spider-webbing spread across what had been a pristine expanse of auto glass. Come on, seriously? What the hell kind of an omen is that?
Honorable mention:
* I wish I could have seen Baroness, who canceled their remaining 2012 dates after a horrible bus accident in England, but I completely understand that they need some time after what happened to them. Still, I adore their recent double LP. I really wanted to see some of those tracks live.
* Colin Stetson started late as hell. I waited and waited with a saxophonist friend of mine — she especially wanted to see him play a sax the size of a horse (we at least saw him holding it) — but we finally had to leave or risk getting to Sunn O))) late. The venue was running behind, which happens, but it was still an awful dilemma.