Charlotte music fans came out in droves to see punk stalwarts Hot Water Music at Amos' Southend on Sunday, Jan. 21, but more focus was on The Menzingers and their singer Tom May. The bulging veins on May's head and neck weren't precursors to an imminent stroke, but symbols of the energetic epicenter of the band's own scrappy punk songs which shared the headliner's spotlight.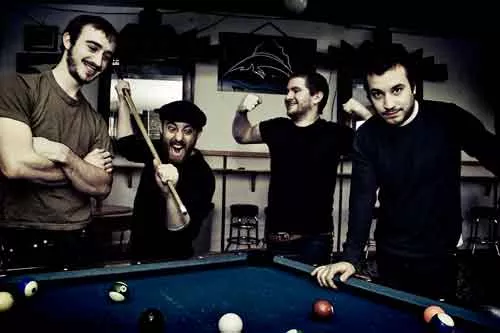 Plenty of beards and flannel shirts packed the cavernous blackness of the South End venue, but Scranton, Penn.'s Menzingers cut through the dark with screaming, raspy vocals and windmilled guitars.
May chopped, spun and bounced his way through the songs while May's somewhat more sedate counterpart, co-vocalist Greg Barnett, made up for his lack of movement with soaring vocals - a mix between a choirboy and dying dreams. Despite the band's innate sadness, May never lets the melancholy of Barnett's songs becoming overpowering, always injecting rough energy into what might otherwise slow the momentum. It's the two vocalists' interplay - singing and screaming over, under and through each other's voices - which ultimately drives the band's set.
Not for nothing, the punk community treasures headliner Hot Water Music. Coming off of a 2008 reunion and new album (Exister released last year), Gainesville, Fla.'s favorite sons might well be under the dictionary heading for "raspy." Vocalist Chuck Ragan doesn't sing so much as growl through his beard, though his sandpaper voice never seems to lack an ounce of soul, while co-vocalist Chris Wollard isn't far behind.
Hot Water Music's set was nothing less than a beer-soaked, spit-flecked sing-along with fans shouting along to every gospel truth in the band's repertoire. The band and its fans proved that concert-going doesn't have to be one-sided, and the best shows render the line between artist and audience inconsequent.
Moonlighting as a folk singer hasn't slowed Ragan down a bit, and while he's not exactly agile, his intensity often verged on unhealthy. Singing with his eyes closed tight, his voice sounds like it's being ripped out of him. I was somewhat surprised when he hadn't spontaneously combusted by the end of the night.
Middle band La Dispute was nothing if not out of place, drawing a large crowd with a high proportion of what I took to be teenagers, adolescent flies to post-hardcore shit. Still, the band puts on a decent show, which definitely benefited from its crowd's interaction.
When the dust settled and the smoke cleared, I couldn't figure out why the mosh pit never got out of hand. Not much like a punk show...