John Butler Trio
The Fillmore
June 15, 2014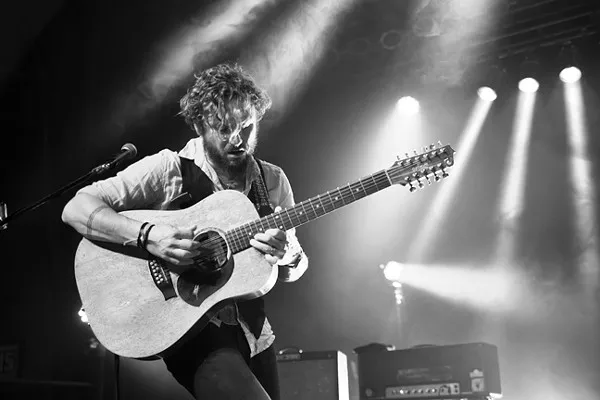 "You guys are getting hammered by frackheads." Australian guitarist John Butler took a break in his trio's blistering set to express solidarity with world citizens under assault from frack-happy politicians, be it Aussie PM Tony Abbott or Governor Pat McCrory.
"I call them frackheads because they're just like crackheads," he told the crowd. "They're addicted to oil. You can't trust them, because they'll rip you off, and the only way they'll get better is if we all sit their asses down and have an intervention." Butler's heartfelt activism drew a healthy round of cheers and applause, but it was dwarfed by the crowd's wildly enthusiastic response to the John Butler Trio's shit-hot playing and stellar songcraft.
No worries, as the Aussies often say. Though one-time-busker Butler's grounded and genuine populism is part of his appeal, the good-sized crowd that filled more than two-thirds of the Fillmore was there to boogie, sway and be entranced. Butler and his band mates - drummer Grant Gerathy and bassist Byron Luiters - didn't disappoint. The groove was in the pocket, and the audience was in the palm of Butler's hand.
Butler employed a battery of instruments, changing guitars as often as some people change outfits. Among his arsenal - a Maton six string jumbo, a Rad Bradshaw dreadnought six string and a Maton 12-string with the high G-string and its peg removed. Perhaps Butler ditched the G-string because he kept breaking it - when Butler played hard, he played percussive - and always without a pick!
Certainly he was tough on strings, breaking one on the thundering tribal folk opener "Cold Wind," yet the mishap didn't hinder the guitarist's slithery slide work and slurry blues licks. The blues was the great aquifer that surged beneath the trio's swinging, ferocious and meditative set, surfacing on the rattlesnake leads of "Revolution," the ricocheting, purple-hazy psychedelia of "Blame it on Me" and the splintering, corkscrewing runs of "Attitude," a tune Butler said he hadn't played in years.
Butler's stock in trade, running his acoustics through a bank of pedals so they sound electric, came into play throughout the set, notably on "Pickapart." Starting with a gently nimble high country figure on acoustic, Butler hit a setting and surged into electric steel overdrive as the tune transformed into galloping Southern-fried boogie.
Yet on several tunes, Butler went with solid body electrics in lieu of acoustics-transformed-by-settings. On the loping hi life-styled "Fire in the Sky," he swapped his six-string for elastic rubber band licks on a lap steel guitar. Percolating banjo was Butler's weapon of choice on the lurching, jazz-inflected punk hoe down "Don't Wanna See Your Face."
For all of Butler's firepower, the trio's set was a band effort. The guitarist shunned center stage, feeding off his sidemen - Gerathy's jump 'n jive Burundi drums and Luiters' electro keyboard stabs on "Devil Woman," and Luiters slippery upright bass on "Better Than."
One stark exception to the program of spirited collaboration was Butler's solo spot on the 12-minute acoustic epic "Ocean." By turns surging, whirlpooling and narcotic, "Ocean" exerted a tidal pull on the audience. Pounding percussion on the guitar top while he strummed, tapping the strings while playing with his fret hand, Bulter's wizardry merged technique with emotion.
Yet Butler accepted the crowd's wild applause with self-deprecation. He seemed happiest trading licks and figures with his fellow performers. Those performers included the audience. Butler urged everyone to sing, and the crowd nailed it on the call-and-response scat of "Zebra."
The audience response actually overwhelmed Butler at one point, when he lost his place on the plangent encore "Losing You." "There's so many people singing, it freaked me out," Butler said as he cycled through a measure and picked up the vocal.
A heavy-psych blues rip through "Livin' in the City" and a rollicking "Funky Tonight" capped an exhilarating set that clocked in at over two hours and 20 minutes.
With more than 10 years of dedicated gigging and inspired playing under his belt, John Butler can still be considered one of the greatest underrated guitarists. If Sunday's display of musicianship and crowd connection is any indication, that "underrated" status will not last long.
Setlist
Cold Wind
Revolution
Used to Get High
Bullet Girl
I'd Do Anything (Soldier's Lament)
Only One
Hoe Down
Better Than
Attitude
Blame It On Me
Pickapart
Ocean
Fire in the Sky
Don't Wanna See Your Face
Devil Woman
How You Sleep at Night
Zebra
Encore
Losing You
Livin' in the City
Funky Tonight