Though San Francisco knocked Carolina out of the NFL playoffs yesterday, online chatter today is focusing more on 49ers quarterback Colin Kaepernick's touchdown celebration and bad calls by the refs than the loss.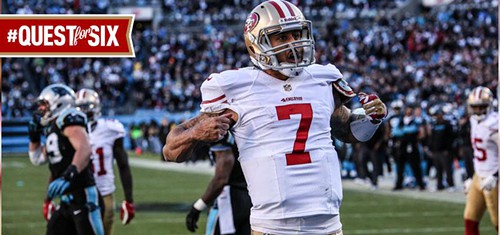 twitter.com/49ers
49ers Colin Kaepernick celebrates his touchdown with SuperCam mockery.
About that celebration... Kaepernick rushed into the endzone for a touchdown and mocked Cam Newton's "SuperCam" celebration by acting like he was ripping open his jersey before pausing to kiss his bicep, known as "Kaepernicking."
A lot of fans have become angered about the celebration. To them I say, it's just part of the game. The Panthers did their own mockery of Kaepernicking during the Carolina's 10-9 win in November at San Francisco.
Plus, some good can come from taunting. I hoped Kaepernick's celebration would spark more fire in the Panthers. That didn't happen.
But let's focus on the questionable calls. A personal foul call on Mike Mitchell turned a potential 49ers punt into a field goal on the game's opening drive. Captain Munnerlyn was penalized for head-butting, though later in the game, two head butts by San Francisco weren't called. A defensive holding penalty during an interception by Cam Newton was missed. On yet another play, the referees missed the 49ers having 12 men in the huddle. There's no telling what difference some of those calls would have made.
What is known is that the Panthers were on the goal line seven times during two drives and failed to get the ball into the end zone, walking away with only three points. If either or both of those had been converted, I'd like to think momentum would have shifted and we'd be looking at a different final result.
A playoff loss stings, but Panthers fans should walk away proud of the team's 12-4 regular season record while carrying hope for better things next year. It looks like this team has finally gelled, and if they can keep the players together in the offseason, they'll go far next season.
One thing's for sure: there will be plenty of Panther fans who have become Seahawks fans, ready to cheer against the 49ers in Seattle.