click to enlarge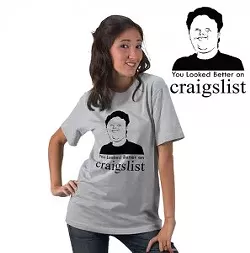 Unless you have some deep-seated issues about your self-worth and body image, most of us can tell the truth about how we look.
Me, for instance, I'm extremely good looking. (Hey, that's what my mother tells me!)
But there ought to be a law about picture people post online, especially dating sites.
Ten years ago, you may have been the cat's meow, but 100 pounds later, it's safe to say you probably ate the cat.
Now, if you're online just to have fun and you never plan to meet anyone from Adult Friend Finder, post what you like. But I demand truth in advertising if I'm going to buy new lingerie in the hopes of fucking the Adonis that I've been chatting with for three weeks.
I can meet ugly people for free.