Massages are my favorite indulgence. When I moved to a new area of Charlotte last year, one of the first things I did was search out a new massage therapist. I have always preferred male therapists because I need a really deep touch. And it doesn't hurt if he's easy on the eyes.
When I mentioned my preferences to a co-worker, she suggested I try out the nearby strip mall massage joint, and she provided me with the name of the therapist she liked. When I arrived at the spa a few days later, I met him and did a little "thank you!" in my head to my friend. She had made a great recommendation.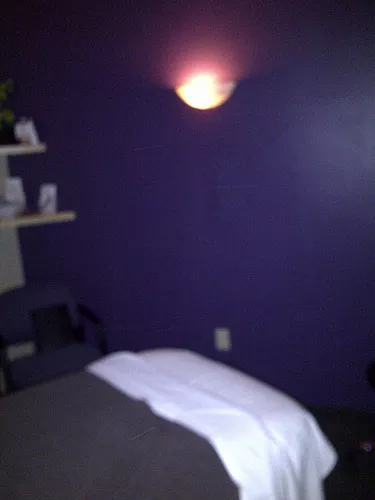 Hgalm (Flickr Creative Commons)
I got naked, as usual, and relaxed on the table. I don't talk during a massage, and I don't like my therapists to talk. However, as soon as he walked back into the room, he started chatting me up. At first I cringed, but it was benign small talk about where we had grown up and where we lived now. He was young and sweet and it was actually nice, for a change, to get to know my therapist.
About 20 minutes in, he said very casually that he has been researching the art of vulva massage and that he would love to perfect his technique, if only he could find someone to "practice on." I paused for a moment and had a "did he just say what I think he did?" moment. Yes, yes he did, because he went on to discuss in detail how much he enjoyed pleasuring women. He could pleasure women for HOURS, he said.
His massages were a bit more, shall we say, sensual, than ones I've received before. It was in the way he brushed my hair aside, the way he touched my forearm, and the way he stroked my inner thigh. At one point, I moaned quite loudly and embarrassed, promptly apologized. "That's ok," he assured me, "We can do whatever we want in here, and no one would ever know..." Gulp!
I left feeling bewildered - and incredibly turned-on. I wanted to satiate my hunger. The only thing that made sense at the time was to walk next door and dive face-first into a huge juicy hamburger. Licking my lips, I texted my friend: "That was just the most intense hour of foreplay EVER!"
I saw him every couple of weeks for almost a year. Sometimes I would ask him not to talk, but most of the time we would chat throughout the massage. I got a great rub-down coupled with an hour of peering into the mind of a man who spends all his time listening to and touching women. He had a unique perspective from which to talk about women's needs and what men could do to better please women.
He said that women do indeed pay him to give them "happy endings." He said that women make the first move by asking him to touch their breasts or butt, or sometimes the women literally move his hands to their body parts that need a little extra attention. As to not endanger his day job at the spa, he offers those women at-home appointments. He said that he always gives them a massage, but "if they want to play after, I'm down for that." When I asked how much women are willing to pay for such a service, he said "about $200."
"Why?", I said. "Why would women pay for something they can get for free, either from their partner or from some guy they could pick up at a bar?" Simple. "They trust me," he said. "They get to know me, they like me, and they feel safe asking me. They know I'm not going to make anything more of it than what it is." The married clients come to him, he says, because they like being able to have the focus solely on their own pleasure. One woman told him that her husband gives great massages, but she could never relax because it always had to lead to sex. She preferred to pay for a massage and then get sex from the massage therapist - on her terms.
The "happy endings" can be from his manual stimulation, from toys, or through intercourse. He is there to please these women and they ask him for things they are too shy to ask of their partners. He is a young, energetic and skilled participant in their encounters. He clearly enjoys his work.
If you must ask, no, I have never gotten a happy ending from him. We maintained a purely professional relationship, and I think we've even managed to become friends. We went out for dinner the other night and talked about sex and relationships for almost three hours. He is newly single, focusing on himself and building his business. He is looking at becoming trained as a sexological bodyworker because he believes what he does is truly therapeutic and healing for many women.
How prevalent is this, I wondered. "If you lined up 10 decent looking male massage therapists, how many of them have given happy endings?" His response? "Half. And the other half have probably had women make a move on them and they were either too dumb to notice or they ignored it."