click to enlarge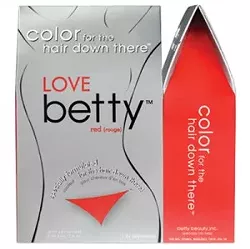 Betty, a noun, that means a woman's hairy vagina.
Betty Color is a sensitive hair color for your hair down there.
No one wants a gray betty, so why not color her pink, blonde, black or Malibu blue? Yes, your betty can be blue and still happy.
According to the makers of the hair color:
Use for a special occasion, a night on the town or whenever you're feeling playful. Color will not rub off on clothing or during physical activity. For external use only. Color lasts about 4-5 weeks.
But what would your man or potential booty call think of you having a pink or blue betty? I called up a good friend of mine who calls himself a "tri-sexual," meaning he'd try anything once.
"What's up, D, I have a question," I said.
"Okay."
"Would you sleep with a woman who has pink pubic hair?"
"What the hell? Come again?"
"Would you fuck a woman who dyed her pubic hair pink or blue for that matter?"
"I'd need a little warning. Will the color come off on my face if I eat? Is this someone that I've slept with before? It's going to be a little weird to pull some woman's pants off and be greeted with some neon blue hair," he said.
So, is a colored betty only good if he's actually seen your betty before? D says yes. "Pink pussy hair is not something you want to see the first time you get ready to stick it."
The betty color people say that men can get in on the fun too:
Many men want to cover grays down there too. Men love betty and how safe it is! They also like to use betty on their beard and chest hair.