click to enlarge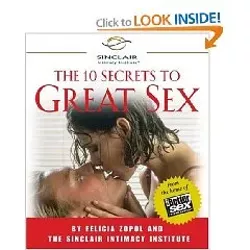 So, I've been doing a lot of reading lately. And I have to wonder, why do we need so many books about how to have better sex?
After reading The 10 Secrets To Great Sex, I realize that I don't have to read another how to sex book.
The book is from the Sinclair Intimacy Institute and common sense, yet erotic tips in this book should keep things hot and spicy in any bedroom.
My favorite secret is number eight, seek stimulating settings.
Finding different places to experience physical intimacy can bring freshness to your time together.
That's the truth. Remember how exciting it used to be to have sex in the back seat of the car when you were a teenager?
Some other places to get busy, according to the book are, the kitchen. Think Glenn Close and Michael Douglas in Fatal Attraction.
The kitchen is the perfect place to seduce your partner by rubbing ice cubes on each other's lips and neck, or applying dessert to your naked body.
Stairways are another place for nookie. The living room, especially if you have a fireplace and mirrors and the laundry room.
The washer and dryer provide sturdy surfaces at or near groin level. If tey are in operation, you'll get some noise cover and interesting vibrations.
But it's secret number 10 that makes this book worth every cent I paid for it.
Explore the "forbidden" pleasures. That's right, get tied up, let your mate fuck you in the ass and swallow. A man's ejaculation only has about four calories.