click to enlarge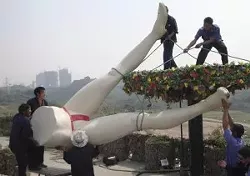 Before someone could even ride a dick in China, the dick was chopped off.
China has shut down and demolished the park in the southwest city of Chongqing. Or, as the state newspaper the China Daily writes, the park "just lacked the staying power."

"With its adult and explicit themes, the country's first sex theme park proved to be 'too hot' for local authorities, and was torn down over the weekend," the paper says.

The manager of the park, which was to open in October, had envisioned the park as promoting sex education and "harmonious sex" but the local government called it "vulgar, ill-minded and misleading," the Daily reports.
With all the huge population that China has, we know the Chinese know a thing or two about sex. It's a shame that we didn't get to see what the rides at this amusement park would be like.
Here are some rides that I'm sure were planned to be there:
The Crotch Rocket
The Oral Stimulator
The Stroker
I wonder if Carowinds can get some of the discarded Chinese rides? That might make a season pass worth the cost.