click to enlarge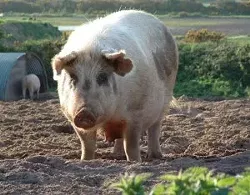 Some things, you just can't make up. This is one of them. A Mississippi man was arrested and being held on a $60,000 bond for — wait for it ... wait for it — having sex with pigs.
Eww!
Andrew Lee Nash, 52, was arrested on the spot. I know even the police had to get physically ill watching the video to get the evidence it took to lock him up. Greenwood Police Chief Henry Purnell said the hogs were examined by a local veterinarian and he found that four of the hogs had a vaginal infection.
How nasty are you if you're giving a pig an STD?
If Nash is indicted and found guilty, he faces up to 120 years in jail.
Here's where I have a serious problem: When a man is convicted of raping a woman, he usually doesn't face this kind of time. That makes this story just that much weirder.