A man in Wilmington, N.C. is being sought after he was seen smashing a "homophobic" sign in front of a church.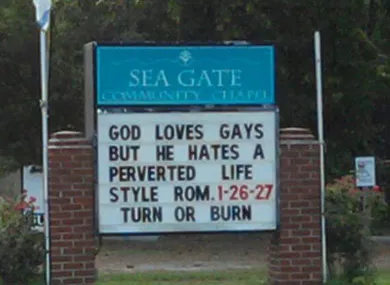 WECT reports on the sign at Sea Gate Community Chapel, which had become a flashpoint for vandalism from opponents and supporters of the church prior to the damage on Sunday afternoon. Wilmington Pride protested the sign Sunday morning because of its message, which said, "God loves gays but he hates a perverted lifestyle," with the warning to "turn or burn."

"Witnesses tell police a tall man took a hammer to the sign before leaving in a silver Ford Taurus," reports WECT. "The car is reported to have bumper damage and a missing hubcap from the front left tire."

Anna Benson, who made the sign, told the news station that it is not meant to offend anyone. Pastor David Heuring supports her and the sign because, he said, it is based on biblical truth.

"I love the gays," said Benson. "I love everybody."
The sad thing about religion, which is supposed to be about love, is that people twist the bible to fit their cause. I'm sure if I cracked open the holy book, I could take a statement out of context and further my cause as well. But is this really love?
Check out what a pastor in Charlotte did during a recent service at St. Peter's Catholic Church And he explains his hate holy reasoning for protesting gays by quoting the bible.