When you think of women in the kink community, usually the first image that comes to mind is of a sexy dominatrix in 6-inch heels and skintight leather. This (undoubtedly appealing) image of female dominants - commonly referred to as dommes - is a big presence in the BDSM scene, but there are about as many different fetishes as there are kinksters. Virtually ignored in the public eye are those women who occupy the opposite pole in the BDSM sphere: female submissives. These are the women who take pleasure in being dominated, being controlled mentally and/or physically.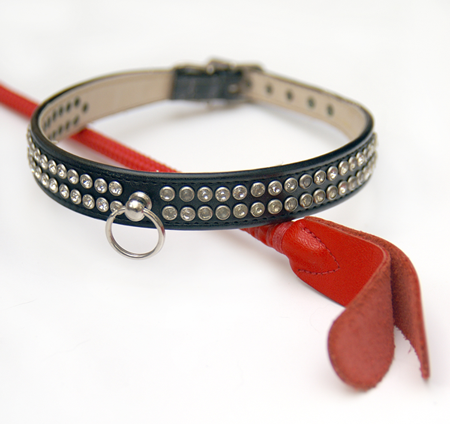 Talking about the female submissive is often taboo because of the fear of looking sexist by portraying women in a position of obedience, especially in deference to men. Kelly Finley, a lecturer in Women's and Gender Studies at UNCC, had some insight into the attraction of BDSM and the reason for the stigma against it.
"For some, this may be [attractive] because they have not known a life of violence and are thus able to fetishize BDSM. For others perhaps, it is cathartic," Finley says. "It is important to recognize that for some however, the idea of chains, whips and punishment conjures a brutal history of violence, slavery and subjugation that many find abhorrent that others minimize and mock."
The law of individualism is key - what's a turn-on for one person may completely disgust someone else. But believing in feminism and being turned on by submission are not mutually exclusive, says Darcy Russel, a local kinkster who considers herself both a feminist and a submissive in the bedroom.
"I believe in the equality of women and men," Russel says. "If you're a feminist and a sub, it's hard to convince yourself to get involved. The second I realized I was into humiliation and stuff, I was like - what the fuck? That really rankled my feminism. The biggest issue is reconciling how you feel in your everyday life and how you feel with sex, and figuring out that the two don't have to meet on some grand, fundamental level."
Russel's dual expressions of identity may seem contradictory. While she considers herself a submissive in the bedroom, outside of sex, her personality is anything but.
"I'm a control freak," Russel says. "In my day-to-day life, I don't like when things are out of my control. That's why I like being a sub. I like having that control taken from me, and being told what to do, because then I don't have to think about it for once."
On Fetlife.com, a social media site for kinksters, there are discussion groups about just this type of internal conflict. In the group Feminist Submissives, many submissive women come together to talk about how to reconcile their political convictions with their sexual desires. One point in particular sticks out: In order to be a truly independent woman, you have to have the freedom to choose how to express your sexuality.
Russel agrees, arguing that empowerment includes embracing your sexual identity. "There's a pride with accepting my sexuality even though it doesn't fit my feminist persona exactly," she says. "There's something that I find very satisfying about the fact that I can go, yes, this is who I am, and I am strong enough to admit this. Feminism is not a one-size-fits-all. My kind of feminism is doing what makes you happy, without being bogged down about if this is the right political statement. Feminism, to me, is about accepting yourself."
Finley echoes this point. She argues that feminism is a dynamic philosophy that evolves constantly to incorporate the various aspects of women's lives. But one point is at the center of the movement, according to Finley.
"The fundamental belief of feminism is that all women (and everyone else) are capable of making all decisions about their bodies, their lives and their pursuits," Finley says. "If you believe that one has the right and ability to make decisions about reproductive justice issues, parenting, relationships, etc., so then they also have the same right to do in regards to consensual sexual relationships."