For much of his life, Alexander "Sasha" Ehrenburg dodged bullets and dreaded the knock of the police at his door.
click to enlarge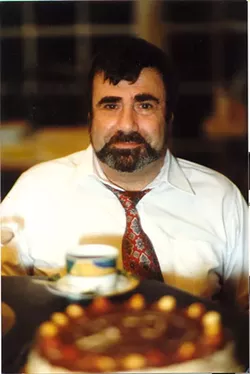 When he was just 4, Ehrenburg, his mother and his baby brother ran from the Nazis, pressing their bodies flat against the grass on the side of the road as German planes attacked from above. Later, he lived with the possibility that the communist police would drag him off the way they did some of his friends, the ones with whom he traded subversive books and dreamed about freedom and an escape to America.
After the Soviets occupied Ehrenburg's native Latvia in 1944, a blanket of dread settled over the country's people. Ehrenburg coped by teaching himself English -- and eventually two other languages -- so he could listen to the broadcasts out of Europe that preached a sermon of freedom. He acquired his vast, encyclopedic knowledge of American history from bootlegged books, any one of which he could have paid for with his life had he been caught reading. Other people he knew disappeared into the Soviet gulag, never to come out again, for much less.
Ehrenburg would later tell the dozens of orphans from former communist republics whom he worked so hard to bring to America about the dreaded knock at the door. It was lecture No. 1, always cued up in Ehrenburg's mind and ready for replay.
"He'd tell them how lucky they were to live in a country where police don't burst into your home and drag you away," says his friend Jeff Barnhart, a state legislator from Cabarrus.
But on May 10, 2005, the police did come for Ehrenburg. They weren't communists, but Charlotte-Mecklenburg Police SWAT officers. And they killed the 67-year-old, wheelchair-bound double-amputee with two shots to his body.
Medics and law enforcement went to Ehrenburg's home that evening not to arrest him, but merely to check on him after a doctor called 911 because he believed Ehrenburg might be having medical problems. Three and a half hours later, Ehrenburg was dead. Though Ehrenburg repeatedly declined their help and asked to be left alone, they knocked down his door twice, and both times officers say he pointed a gun at them. The second time, SWAT killed him.
In the process, it appears police may have violated their own standards for entry -- what few standards they have -- and those policies, experts say, are generally used by SWAT teams across the nation. Worse yet, two versions of what happened that night appear to conflict with one another.
Two years later, friends, family and the doctor who called 911 remain baffled by what happened that evening.
"We were pretty dumbfounded that it had happened," says Dr. David DiLoreto, the doctor who called 911 that night. "We never got a good answer."
In the days after his death, Ehrenburg's wife, Izabella Skorska, was careful not to point an accusing finger at police. Skorska and her husband had been donors to the Police Benevolent Association, and in statements sent to local news outlets, Skorska repeatedly insisted that she supported the police but hoped to get answers soon.
Former Police spokesperson Keith Bridges fired back the day after the shooting, describing Ehrenburg to reporters as a "barricaded gunman" and suggesting that he might have been trying to commit "suicide by cop."
Since then, Ehrenburg's loved ones say that both the police department and the Mecklenburg County prosecutor's office have clammed up and withheld information about the case that could legally have been given to them. Their requests that the North Carolina State Bureau of Investigation be brought in to oversee an investigation into the incident, which is standard practice in the state's other large cities, were ignored.
"If my husband did something very wrong, I would have to accept it," Skorska says.
Instead, a jumble of state and local laws, codes and statutes and the stubbornness of the police department has prevented the family from finding out many of the details about what happened that night.
That set of laws, which Barnhart is working to change in the state legislature, is creating a deadly situation, he says. According to Barnhart, police and SWAT teams can ram down your door and kill you with virtually no public oversight because the public is entitled to very little information about what goes on in these incidents.
Further complicating matters is the general lack of oversight of SWAT teams across the nation.
"There are no national standards, no state standards, no national policy, nothing to regulate these teams," says Peter Kraska, a professor of police studies at Eastern Kentucky University.
"Half in the bag"
Perhaps the most perplexing issue surrounding Ehrenburg's death is why the SWAT team knocked down Ehrenburg's door a second time, just three and a half hours after he pointed a gun at firefighters who burst through his door the first time.