Americans are incredibly nosey. That's why reality TV shows looking into the lives of celebrities and average Joes are so popular — we like to be all up in people's business.
One popular show that aired not too long ago was MTV Cribs, where a camera crew was invited into a celebrity's home as he or she showed off all the cool things we wish we could afford. Well, in that respect, Creative Loafing is offering you the opportunity to peer into some of your neighbors' homes, as we present a tour of eclectically decorated living spaces in Charlotte.
While Cribs focused on actors, musicians and athletes who owned their own spots -- complete, I'm sure, with a mortgage payment to match the luxurious cars in the driveway -- every single person featured in this story rents his or her place from a rental company or private landlord. And as you gaze at the pictures (and watch the full, Cribs-style video tours available online here), we hope you'll be dissuaded from the idea that you have to own your own place to really make it yours. From the people we've interviewed, it's clear that it really doesn't take much cash to make your home a cool place to live.
Kymm McLean
click to enlarge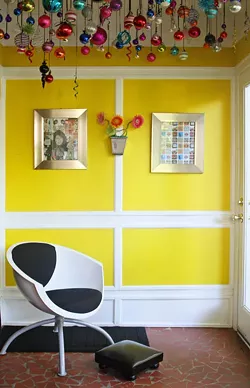 Meet Kymm McLean ... if you're fast enough. This woman works seven days a week, doing everything from wardrobe styling, hair styling and makeup for models to makeup lessons and makeovers for girls' birthday parties. After spending all day dabbling in color, she returns to her 1,800-square-foot rental home on Briar Creek Road to be surrounded by even more color.
"I am so into your environment," McLean says. "As soon as you wake up, the first thing you see is your home environment. It's kind of hard to be bummed out in this house; it's really colorful and fun. I go to people's houses all the time -- that's a part of my job -- and I would just be depressed if I woke up to nothing. I lost two homes to floods, and when I was younger, I was actually homeless for a while, so for me, the home environment is so important."
In every room of McLean's pad, something colorful pops out at you. Colorful rugs in the living room are accented by collectible vases, picture frames, lampshades and more, in addition to a display of old cameras she's collected over the years. The "bar room" features bright red stools and a black table with a red miniature telephone booth on top. And you'll find vintage toys from the good ol' days showcased on a bureau. Stickers adorn the "yoga room," and Christmas ornaments hang down from the ceiling in the sunroom, also known as her reading room.
McLean says there are two reasons why she decided to rent instead of buy: "I don't think it's worth the financial risk to take a debt of a minimum of $150,000 based on the fact that you've got a job and you're working week to week; that job is always up for loss. The other thing is, I don't want to live with a $150,000 loan. Because truth be told, some people look at renting as wasting money -- I look at it as freedom. What if two years from now I want to move to New York? I'm free to pack up and leave anytime I want."
Where do you live?
In a house near Plaza Midwood and NoDa, which is where my studio is.
What is the inspiration behind the way you've done your place?
It's definitely a reflection of myself. I think you'd consider the décor pop art, because it's bright colors, everything is comical, cartoony, overdone, whimsical. The basic theme is, all the furniture is black, the walls are gray, the trim is white and everything else is color. I've seen designs where people do all colors, which is kind of overwhelming, and the whole black-and-white thing, which is kind of stale, so I mixed it in together.
What are some of your favorite decorative pieces?
I just made these 3D, multimedia collages, which I love. I was thinking that everything hanging on the walls is just flat, and I thought, what if you could represent and express all the stuff you're into but do it with actual objects. And it was not that hard. These collages represent the biggest influences of my life: music, photography and beauty.
What kind of budget does it take to do one's house the way you've done it?
Everything in here was found on Craigslist, at yard sales, IKEA or handmade. I call it "design on a dime." I'll know I've made it in life when I buy a piece of furniture that I don't have to put together.