Page 2 of 3
The CMPD Gang Intelligence Unit's origins lay in worries as police began finding graffiti and linking homicides to gangs, such as an April 2003 fatal shooting at Lake Wylie and a January 2005 shooting on Albemarle Road that left a teenage MS-13 member dead. The unit's comprised of four detectives, a sergeant, the Gang of One prevention/intervention coordinator and patrol representatives from each of the city's 13 divisions. "Were gangs present 10 years ago? Yes. Were they called gangs? Some were. Some weren't," Levins says.
Home of the Kings
click to enlarge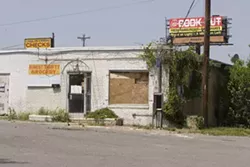 The Hidden Valley Kings date back at least a decade. The neighborhood from which their name is derived, bordered by Sugar Creek Road, North Tryon Street and Interstate 85, provided an ideal location. "It was a strategic plan by the leadership of the Kings 10 to 15 years ago," he says. "They realized that it has access to so many major corridors and an interstate, that it would be a good place to sell dope."
Already known to police and regular watchers of local TV news, the neighborhood quickly became Charlotte's most high-profile gang haven after the March 30 arrests that brought police to the Pierce family's door.
The charges against the 20 alleged gang members or associates include federal drugs and weapons charges. Authorities, in a 48-count indictment filed March 27 and unsealed three days later, allege the men conspired to divide the neighborhood into territories to control drug sales: cocaine, crack, pot and Ecstasy. The men at times required dealers to pay a block "tax" to be able to sell drugs in the Kings' "territory," and the gang operates a hierarchy in which its top leaders are "Original Kings." The next level of leaders is called "Original Gangsters" and leaders below that are known as "Baby Gangsters."
Deamasha Crosby, 17, says the arrest of her cousin, alleged Kings member, Emmanuel Ellis Keller, was unfair. The 23-year-old man, now in federal custody, stands accused of distributing crack in August 2006 and February of this year. "That's not him," Crosby says. "He's a totally changed man. He has a child," she says, as a toddler she identifies as Keller's one-year-old son plays on the floor nearby.
Who knows yet what will happen to the men whose alleged gang ties were made known with the unsealing of a federal indictment. Most of the 20 men named are still in federal custody.
Generally, most local gang members aren't in it for the long haul, said the Rev. Fran Cook, who heads CMPD's Gang of One program. "Eventually the gang just lets them go. We're in Charlotte, not L.A. or New York, Houston or Philadelphia. The gang members just don't have that kind of power here," she told Creative Loafing last month.
But by that time, Levins says, the damage may have already been done. "For the most part, they grow out of it or just want to disassociate from it, but the problem is a lot of things that happen to them during the time they're in the gang, so much damage is done to the person, to their reputation, to their criminal history, that it's sometimes not recoverable."
But the damage done by gangs and drugs is already evident in Hidden Valley. Its population, which last year was nearly 13,000, has grown in recent years, as have incomes and home values. But property values over time have declined, and homes are about 45 percent of the city average. And it's dropout rate, though decreasing, is about twice the city average.
Still, the neighborhood's middle- and working-class roots remain evident in the care most residents put into their homes and the disgust they voice when asked about crime. One man, who declined give his name, says he's lived in the neighborhood 10 years and has seen more troubling people move in -- "just a lower class."
A Charlotte native, he's lived in the neighborhood for a decade and hasn't witnessed the drug or gang activity exemplified by the recent Kings bust, but he's had lawnmower equipment stolen that he believes went to get addicts their fix. "It gets pretty bad, junkies and stuff," he says.
He was troubled by the Kings' arrests in March. He recalled coaching several of the indicted men back when they were in elementary school and he was their baseball coach at a nearby rec center. "They were good guys, just didn't have fathers and stuff," he says, sighing. "I just hate to see things like that."
After a pause, he continued: "Maybe it's society. Maybe it's them. Maybe it's a combination. I don't know -- it's just messed up."
William Mustafa, president of the Hidden Valley Neighborhood Association, strongly believes that local media has unfairly portrayed as a hotbed of gang and drug activity.