The rain held off long enough on Saturday for more than 10,000 people to march through Uptown in support of women's rights during the Women's March on Charlotte, which coincided with simultaneous marches throughout the world.
The march began with a gathering at First Ward Park, and at 10 a.m. folks began marching up 7th Street into the center of Uptown. The march was so long that at one time it extended from the beginning point to the end point, as marchers were still streaming into Romare Bearden Park nearly an hour after the head of the line had arrived there.
Creative Loafing spoke with some people in the crowd on Saturday, many of whom were first-time protesters, about what inspired them to come out and what the experience was like for them.
Prisca Kim said that, despite the fact that her 2-year-old son JJ cannot talk, she wanted to teach him early the importance of speaking up for women's rights.
"First of all, I'm here for myself as a woman. Also, I want my son to experience standing up for women at a young age. I want him to learn that women make up half the world and without women, this world would fail." -Prisca Kim
Carole Morris said she was an "at-home liberal" but was inspired by the election of Trump to become more active.
"I didn't really get out and do much before but I think the stakes are just too high. It's great to know there are so many people that are willing to organize and make sure that we're fighting for what we believe in over the next four years. A bunch of mad women is nothing to mess with." -Carole Morris
Arnold Ong brought his son Kai to stand in solidarity with women.
"I wanted to support 50 percent of our world population. I believe in equal rights for everyone — all people of all backgrounds, creeds and religions — so I'm here to help support that. Today is especially important because it's the day after the inauguration, and so I think it's important that we voice our concerns to the newly elected president that this is a democracy, that he represents all people." -Arnold Ong
At just 15 years old, Kristalynn Oliver-Mays and her group of friends thought it was important to join the march as women who will be voting against President Trump's potential re-election in four years.
"We're here because we believe in the social, economic and political equality of the sexes. We believe that Trump has no permission to tell us what to do with our bodies and the government has no permission to tell us what we can do. We're women, we deserve the same rights as men do and as the youngest generation we need to make it clear that we're not going to stand for this any longer and that equality is happening and it will come. We will overcome this and he will not have eight years in office." -Kristalynn Oliver-Mays
Karla Theodore moved to Charlotte from Miami nine months ago. She wasn't sure what to expect on Saturday, as many of her friends didn't know about the march. She even tried to convince her Uber driver to take the rest of the morning off and join the march.
"This was really exciting. I didn't expect to see this many people here today. I came in solidarity — not only as a woman but as a person of color — for immigrants, for the LGBT community and for any group that was marginalized during this election cycle." -Karla Theodore
Sally Schrader was not able to march alongside her daughter and granddaughter — who were marching in Vermont and New York, respectively — but seeing the generational gap bridged at Saturday's march in Uptown inspired her.
"It's very unifying that the generations are all uniting. If you look around here, you've got the little bitty kids and the seniors and even disabled people in wheelchairs are represented. It's just really a cross section of people who are concerned about our future." - Sally Schrader
Joey Hewell and his husband Scott Lindsley pointed out that the crowd was filled with white women, who, for better or worse, get reactions when they turn out like they did on Saturday.
"Look at who it actually is that's out here. I feel like a lot of times when people march they don't have the support of a bunch of white women. There's a bunch of white women out here and kids and families. I feel like that's the best way to be heard, unfortunately, in this country; when you offend white women." -Joey Hewell
"These are your neighbors. These aren't people you can point to from the other side of the tracks that you love to hate. These are people you know, these people are in your church, these kids go to your kids' schools." -Scott Lindsley
Neither Brenda Stubbs nor her friend Kim Bohannon had ever protested before Saturday, and both had been slow to express their sadness and outrage since Trump's election. However, the Women's March on Charlotte inspired each to join the masses of those with similar anxieties about the country's future under Trump.
"I am not a marcher, I am not a protester, but I couldn't be still and quiet for this." -Brenda Stubbs
"It's my first time protesting ever in my life. I'm overwhelmed, and I'm glad to be here today because I don't feel so alone in this now." -Kim Bohannon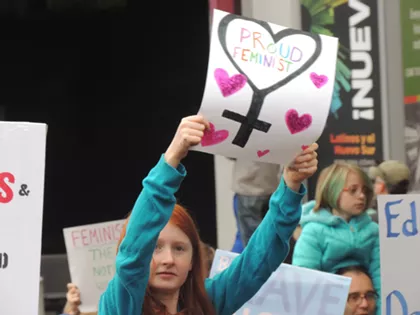 36 slides